Buffett Endorses Job Cuts for Profit Amid Shareholder Unease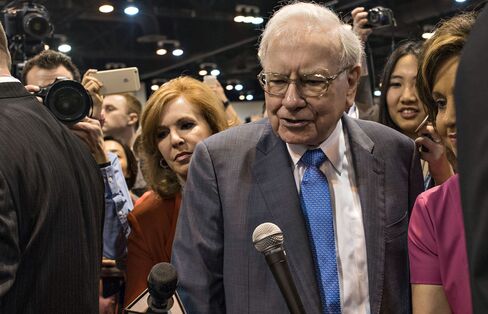 Warren Buffett's partnership with 3G Capital, a job-cutting buyout firm that helped him do some of his biggest deals, has hit a nerve with shareholders of the billionaire's Berkshire Hathaway Inc.
The first question asked at Berkshire's annual meeting on Saturday came from a Texas shareholder who said he was "suffering heartburn" because of 3G's "brutal" practices at the companies it acquires. That doesn't square with Buffett's reputation for being a more benevolent buyer of businesses, according to the shareholder.
"Efficiency is required over time in capitalism," Buffett said at the event in Omaha, Nebraska. "I really tip my hat to what the 3G people have done."
At least three other times during the meeting, Buffett, 84, and his longtime business partner, Charles Munger, addressed the buyout firm's practices and how they fit into Berkshire's broader strategy. 3G has cut more than 7,000 jobs at H.J. Heinz, which pays Berkshire an annual dividend of $720 million on his $8 billion preferred stake.
"We do not believe in having extra people around," Buffett said, citing how efficiently the Geico insurance unit is run and how Berkshire has only about two dozen staff at headquarters.
Munger backed him up, saying that job cuts are part of a capitalist system in which competition pushes companies to increase productivity.
"There's no question that waves of layoffs hurt people," he said. Still, he asked: "What would our country be if we kept everyone on the farm?"
Heinz, Kraft
Berkshire first partnered with 3G, which was co-founded by Brazilian billionaire Jorge Paulo Lemann, to take over Heinz in 2013. While each firm took half the equity, Buffett has left management of the ketchup maker to 3G.
Since the buyout, Heinz has eliminated jobs from the factory floor to its headquarters in Pittsburgh. The cuts boosted margins and have forced other food-and-beverage companies to assess whether they're lean enough.
In March, Heinz announced that it would merge with Kraft Foods Group Inc. in a deal engineered by 3G and Buffett. Berkshire will own about a quarter of the combined business, which is poised for another round of belt-tightening. When 3G's managers take over at Kraft, they expect to wring $1.5 billion in annual costs out of the businesses.
"Their association with 3G opens up a series of transactions that they would never be able to get involved in," said Bill Smead, who oversees $1.4 billion at Smead Capital Management. "The world of business is pretty vicious."
Throughout his career, Buffett's mantra has been to buy businesses, particularly family-controlled ones such as Nebraska Furniture Mart and car dealership chain Van Tuyl Group. Berkshire has been attractive to sellers because Buffett vowed to keep what he buys and allow existing management to run operations.
Buffett's Tolerance
That strategy helped Buffett build Berkshire into one of the largest businesses in the world during the past five decades. Its operations now include insurers, electric utilities, manufacturers, retailers and one of the largest U.S. railroads.
"Buffett is, at his core, a capitalist," said Luke Sims, chairman of Sims Capital Management. While businesses sometimes need to cut costs and headcount, he "hates making those decisions himself."
Buffett said Saturday that some Berkshire businesses have more staff than needed.
"I don't do anything about it," he said. "But that doesn't mean that I endorse it. I basically tolerate it."
Before it's here, it's on the Bloomberg Terminal.
LEARN MORE