BHP Wins as Modi Fails to Get India Coal Trains Running on Time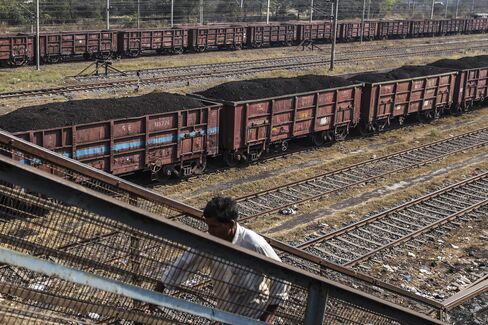 Prime Minster Narendra Modi's plans to shift India's economy toward manufacturing and away from agriculture and services are being held up by a coal shortage.
Actually, there's plenty of coal, just not enough trains to get it to the power plants. While about 200 railway convoys arrive every day at Coal India Ltd.'s depots, Technical Director Nagendra Kumar said the company needs 230 of them. The state-run company supplies more than 80 percent of the nation's coal.
India will need to upgrade its railway network for Coal India to open more mines and deliver its product, said Deven Choksey, managing director at KR Choksey Shares & Securities Pvt., a Mumbai-based brokerage.
"The infrastructure bottlenecks are stopping Coal India from rising to its full potential," Choksey said. Coal generates about 60 percent of India's electricity.
With output climbing at Coal India, the fuel is piling up at the mines. At the same time, slumping global prices mean customers are turning to imports from the likes of Glencore Plc, BHP Billiton Ltd. and Indonesia's PT Bumi Resources.
Benchmark thermal coal prices have slipped to near a six-year low, and prices are down by more than half since peaking in January 2011. That's making imported coal more affordable.
India's coal imports jumped 33.5 percent to 242.4 million metric tons in the year ended March 31, according to data from Mjunction Services Ltd., a Kolkata, India-based auction platform for commodities. The figure may reach 260 million tons this year, Mjunction Chief Executive Officer Viresh Oberoi said in an e-mailed response to questions.
BHP ended Sydney trading on Monday at A$33.35, up 2.6 percent, while Bumi Resources gained 4.2 percent to 75 rupiah in Jakarta.
Coal India shares rose 1.9 percent to 369.80 rupees at the close in Mumbai. The stock has declined 3.7 percent this year, while the benchmark S&P BSE Sensex has been little changed.
Falling Prices
Power plants near ports often bring in imports by truck, unable to find enough railway cars.
"Coal prices having fallen internationally will benefit some of the coastal plants," said Santosh Kamath, partner, infrastructure and government services, at KPMG. "Imported coal may have become cheaper than domestic coal for some consumers."
That's affecting Coal India. The company's sales volume has lagged behind production in each of the past six months according to filings, an unusual pattern for a company that isn't meeting demand.
Dependence on coal imports is unjustified, as India has "huge" reserves of the fuel, Piyush Goyal, minister for coal, power and renewable energy, said in March, according to a Press Trust of India report. The nation has 301 billion tons of coal reserves, about 42 percent of which is proved, according to the federal coal ministry. Coal India has also called for the construction of three new railway lines that will help open new mines that can produce 300 million tons of the fuel every year.
Train Orders
Modi's government has asked Coal India to double production in five years to 1 billion tons to meet increasing demand from customers.
"At the present juncture, the actual production of coal however falls short of the overall demand for coal," Goyal said in a written reply in parliament on March 16, adding one of the reasons is a lack of freight trains.
The shortage of rail cars may persist. At Titagarh Wagons Ltd., India's biggest maker of freight wagons, almost half its plant capacity is idle because of a lack of orders, Chairman J.P. Chowdhary said.
"Plant capacity use will fall further if new orders don't come in three, four months," Chowdhary said by phone. "Because of a lack of orders, people are quoting very low prices, making the business unviable."
Rail Giant
Indian Railways, which has been in operation for 162 years, is the nation's biggest mover of bulk goods, including coal, iron ore, grains and fertilizer. It ferries about 23 million passengers a day, comparable to the entire population of Australia, along with 3 million tons of freight.
With strong political opposition to increasing passenger fares, the state-run railway has little capital to invest in its rolling stock. Out of every 100 rupees ($1.58) the company earns, 92 rupees go toward costs.
"The logistical difficulties are a reason to worry," said Debasish Mishra, a senior director at Deloitte Touche Tohmatsu India Pvt. in Mumbai. "My fear is we don't have a quick solution to the problem."
Before it's here, it's on the Bloomberg Terminal.
LEARN MORE