U.K. Parties Skirt Coalition Commitment as Hung Parliament Looms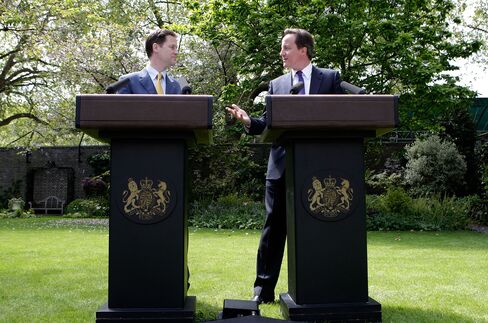 Britain's politicians sidestepped questions on whom they'd work with following the May 7 election, as polls showed no party is set to win an outright majority.
As the final stretch of the campaign gets under way, neither Prime Minister David Cameron's Conservatives nor opposition leader Ed Miliband's Labour Party are predicted to gain enough seats to form a government. That shifts the focus to what happens on May 8, with polls released Sunday confirming the two parties are in a dead heat at about one-third each.
Harriet Harman, deputy leader of Labour, said in an interview on Sky News that there'd been no conversations with other parties. Nick Clegg, leader of the Liberal Democrats, the junior member of the coalition government, ruled out pacts with some smaller parties in an interview with BBC Television's Andrew Marr.
"The vote isn't until Thursday and a third of people haven't made up their mind," Harman said. "We're not talking to other parties, we're talking to the British people."
A YouGov poll for the Sunday Times put the Tories at 34 percent and Labour at 33 percent. The U.K. Independence Party was picked by 13 percent of those polled and the Liberal Democrats by 8 percent.
Clegg said he'd insist on funding for the National Health Service and other financial measures as conditions for making a deal with one of the major parties. He refused to rule out support for a referendum on European Union membership and said he wouldn't make a deal with the Scottish National Party or UKIP.
Minority Government
Under a minority government the SNP would approve legislation on a vote-by-vote basis, Nicola Sturgeon, first minister for Scotland, told Sky.
Yvette Cooper, who speaks for Labour on domestic matters, said her party wouldn't make a pact with the SNP. UKIP leader Nigel Farage, speaking on the BBC, said he didn't want a coalition with anyone.
"We can't do coalitions, deals or pacts with the SNP," Cooper said. "It will be up to other parties how they vote on a Labour program," should Miliband lead the government, she said.
William Hague, a former Conservative leader, said on Sky that a majority "is within our grasp," and that a coalition government would be "a chaotic situation and very dangerous for this country."
In an interview with the Independent on Sunday, Miliband highlighted the economic risks of voting Conservative, saying the party presents "a clear and present danger to family finances." Cameron wrote in the paper that "the economy is on the ballot paper," and his party is best placed to protect it.
The Conservative leader also cautioned voters against supporting smaller parties in the hope of influencing the shape of a coalition government.
"You cannot vote UKIP and have me remain as your Prime Minister," he said. "If you are considering voting Lib Dem and think that will result in me being Prime Minister, that won't work either."
Before it's here, it's on the Bloomberg Terminal.
LEARN MORE