Stay Tuned for Cable Mergers as CEOs Convene This Week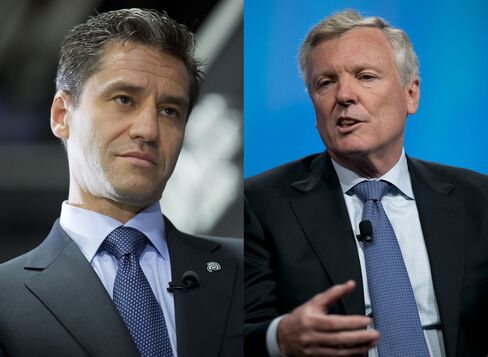 The cable-TV industry is again on the brink of large-scale consolidation, and odds are that Time Warner Cable Inc., Charter Communications Inc. and Bright House Networks will finally get together.
Since Comcast Corp.'s plan to take over Time Warner Cable blew up last month, industry watchers are trying to guess what happens next. Will Charter bid for Time Warner Cable? An offer would probably have to top $160 a share, perhaps $175 according to analysts. Or Time Warner Cable could turn the tables and try to buy Charter. Either way, the combined company may buy Bright House. There are numerous possibilities, but the crux is that big mergers are still on their way.
"Maybe all three parties sit down and think of a way to negotiate," Amy Yong, a New York-based analyst for Macquarie Group Ltd., said in a phone interview. "There are a lot of different scenarios."
Cable deals have heated up as operators look to rearrange their markets to concentrate on certain areas, while selling off less strategic operations. They're also seeking to gain scale, which increases their negotiating power with television programmers. A combined Charter, Time Warner Cable and Bright House would create a more formidable competitor, and the deal could lead to more asset swaps with operators such as Comcast.
"The industry executives need to map out all of the U.S. a little bit better," Yong said. "They need to sit down and think about who should get what."
Cable Show
Many of those executives will be meeting this week in Chicago at the Internet and Television Expo, formerly known as "The Cable Show." The three-day trade show will feature panel discussions and product exhibits on trends affecting the pay-TV and online video markets.
On Wednesday, Time Warner Cable Chief Executive Officer Rob Marcus and Charter CEO Tom Rutledge are scheduled to speak on the same panel. The two executives are expected to meet privately this week to explore a possible deal, CNBC reported.
After Comcast and Time Warner Cable agreed to their now-dead deal, AT&T Inc. agreed to buy DirecTV. That $66 billion transaction is still on track and awaiting regulatory clearance.
"The reasons driving the Comcast-TWC and AT&T-DirecTV deals are still in play," said Paul Sweeney, an analyst for Bloomberg Intelligence. "Distributors are looking for consolidation to drive synergies in operating expenses and capital spending required to remain competitive."
Charter Scenario
The structure of a Charter deal for Time Warner Cable won't be as simple as Comcast's all-stock offer was. Time Warner Cable is asking for cash and stock from Charter, just as it did during negotiations in 2013 and early 2014, according to people familiar with the matter. Charter offered $49.50 in stock and $83 in cash per share last year.
Macquarie's Yong said Charter would likely have to offer $160 to $170 a share this time around. She projects a deal in that price range, paid half in cash and half in stock, would more than triple earnings and also increase free cash flow. Time Warner Cable's stock ended last week at $157.25.
Further complicating the deal is the status of closely held Bright House, owned by the Newhouse family. Charter is actively negotiating a new deal to acquire Bright House, Rutledge said Friday during a conference call. Charter's previous agreement to buy Bright House, the sixth-largest U.S. cable company, was conditional on the approval of Comcast's bid for Time Warner Cable.
Three-Way Deal
It's possible Charter, Bright House, and Time Warner Cable all merge to form a company with about 18 million subscribers, challenging market leader Comcast as a clear No. 2 in the cable industry, the people said. That company would be owned by the Newhouse family, John Malone's Liberty Broadband Corp., which owns more than 25 percent of Charter, and the remainder of Time Warner Cable and Charter's shareholders.
The composition of the board and management of the company would also need to be determined. Liberty and Charter will push for Rutledge to run the combined company, one of the people said.
It's possible that Time Warner Cable resists a takeover and instead tries to convince shareholders that they'd be better served by the company becoming an industry consolidator, according to Todd Mitchell, a New York-based analyst for Brean Capital.
Other acquisition candidates it could pick up include Cablevision Systems Corp., valued at $5.6 billion, as well as closely held operators Cox Communications Inc. and SuddenLink Communications.
"A key question for investors is whether TWC is a better buyer or seller," said Sweeney, from Bloomberg Intelligence. Since the Comcast bid was first announced last year, Time Warner Cable's "operating performance and stock price have improved. The company is certainly in a stronger position."
Before it's here, it's on the Bloomberg Terminal.
LEARN MORE