Saudis Deny Sending Troops to Yemen, Reject Cluster-Bomb Report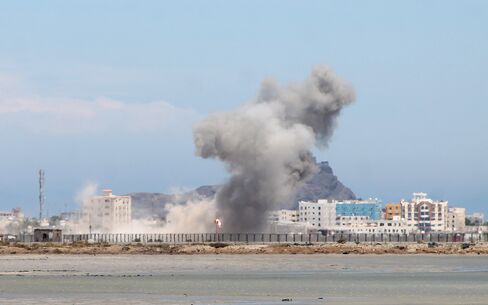 Saudi Arabia said it hasn't sent ground troops to Yemen, after reports that soldiers from the Saudi-led coalition were seen near the southern port of Aden.
The kingdom also rejected a report by Human Rights Watch that it has been using banned cluster munitions during airstrikes against the Shiite Houthi rebels in Yemen.
Nabil Quaiti, a resident of Aden, said by phone that "dozens" of soldiers from the Saudi-led coalition were seen around the airport outside the city. The Aden airport has been contested between the rebels and Saudi-backed forces loyal to Yemen's ousted President Abdurabuh Mansur Hadi. Al Jazeera and other media outlets also reported a deployment by the Saudi-led coalition.
Ahmed Asseri, a Saudi military officer and spokesman for the coalition, said the Saudi-led force has no ground troops in Yemen, though he said it's providing support to anti-Houthi forces.
The Saudis haven't ruled out sending troops as a follow-up to their six-week campaign of airstrikes against the Houthis, whom they accuse of being tools of Iran. The bombing has largely failed to roll back Houthi gains.
There's evidence that the predominately Sunni coalition used "banned cluster munitions supplied by the U.S." in its attacks on Houthi-held areas of Yemen, Human Rights Watch said in a statement on Sunday.
Cluster Bombs
"Photographs, video, and other evidence have emerged since mid-April 2015 indicating that cluster munitions have been used during recent weeks in coalition airstrikes in Yemen's northern Saada governorate," the New York-based group said.
The categorization of the weapons as banned "isn't correct," coalition spokesman Asseri said in a phone interview. The group's report wasn't "balanced or objective" and ignores the crimes being committed by the Houthis, he said.
Cluster munitions contain dozens or hundreds of submunitions designed to explode over a wide area, and can kill or injure civilians for years after a conflict. More than 100 countries have signed an international agreement banning their use or transfer. The U.S. and Saudi Arabia aren't among the signatories.
The United Nations says more than 300,000 people have been displaced by the escalating violence in Yemen. Humanitarian groups are warning of fuel, water, food and medical supply shortages.
Before it's here, it's on the Bloomberg Terminal.
LEARN MORE