Ethiopian Israelis Clash With Police at Tel Aviv Demonstration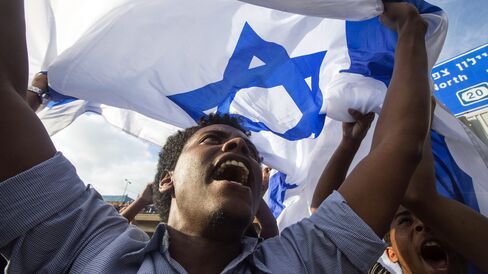 Hundreds of Ethiopian Israelis clashed with officers in central Tel Aviv on Sunday, as a protest sparked by a police beating turned into a violent confrontation that echoed recent events in U.S. cities such as Baltimore.
The protest was the second of the past week, following an April 30 event in Jerusalem that also turned into a brawl between Ethiopian Israelis and police trying to contain an unauthorized demonstration that blocked roads. The rallies were sparked by a video clip broadcast on local television last week that showed an Ethiopian Israeli soldier being beaten by two police officers, without apparent provocation, in the coastal city of Bat Yam.
About 130,000 Ethiopian Jews live in Israel, brought over in two large airlift operations during the 1980s and 1990s. Community leaders have long argued that they suffer from racist attitudes, in particular from police who often associate them with the country's illegal African migrant population.
"We will allow them to express their grievances, but won't agree to unlicensed demonstrations of these type," Police Commissioner Yohanan Danino said in a text message. "We very much understand their anger, but won't allow public disturbances."
Israeli Prime Minister Benjamin Netanyahu will hold a meeting Monday with leaders of the Ethiopian community and the soldier who was assaulted, together with relevant government officials, his office said.
Before it's here, it's on the Bloomberg Terminal.
LEARN MORE