Emirates to Revamp First-Class Cabins With Focus on Privacy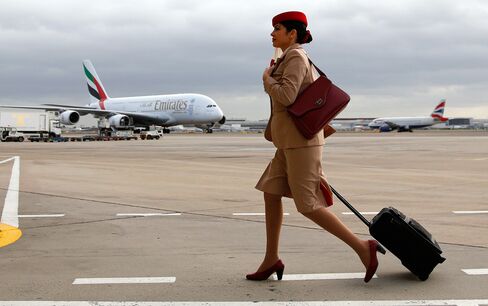 Emirates is overhauling its first-class cabins that will twin a sense of privacy with what the airline called a commercially reasonable price point, following the success of premium suites on the largest airliners.
The new product will appear later this year on the airline's Airbus A380s, followed by the Boeing Co. 777s, Sheikh Majid Al Mualla, Emirates' divisional senior vice president of commercial operations for the region, told reporters in Dubai.
The accent on privacy comes as Emirates chases well-heeled passengers willing to pay more for a private space facilitating work or relaxation. The market for the most expensive seats on an aircraft is at a crossroads, with many carriers reducing their first-class offering or dropping it outright, while others, such as Etihad Airways PJSC, go to the other extreme and fit entire suites with beds into the front of their jets.
Emirates first-class suites now provide a sliding door that functions as a partition from the aisle. Occupants of the premium seats also enjoy the option of taking a shower on board the A380, the world's largest passenger aircraft, of which Emirates is the largest buyer and operator.
Bed, Butler
Among carriers that see limited demand for luxury seats in a post-recession economy are American Airlines, which is removing them from close to 50 jets, Deutsche Lufthansa AG, spending 1 billion euros ($1.3 billion) to upgrade business class as capacity in first is cut 30 percent, and Gulf carrier Qatar Airways Ltd., which is limiting first-class to its A380s.
A small percentage of luxury travelers are willing to pay top dollar for premium suites in the sky. Etihad in Abu Dhabi last May unveiled its Residence, which costs $20,000 for a one-way trip between Abu Dhabi and London permitting dual occupancy. The suite, with a dedicated butler and three rooms, sold out the first 10 flights a month before its December debut.
Emirates' product will be "more like if you're in a railway and have a private cabin," Al Mualla said, adding it will be installed on routes that have high demand for first class. The new cabin will be unveiled "hopefully" this year and at "almost the same pricing" as current cabins. "It should be more commercially viable for passengers."
Qatar Airways has said it is working on a double-bed cabin with business-class catering to compete with its rivals' costlier first-class products.
"Emirates has been a trend-setter in first class, it has a first-comer's advantage," said Mark Martin, founder and CEO of Dubai-based Martin Consulting. "I don't think Etihad will create a dent in the first-class segment because Emirates has a bigger fleet.
Before it's here, it's on the Bloomberg Terminal.
LEARN MORE