U.S. Stocks Rise While Treasuries Resume Slide; China Boost Gold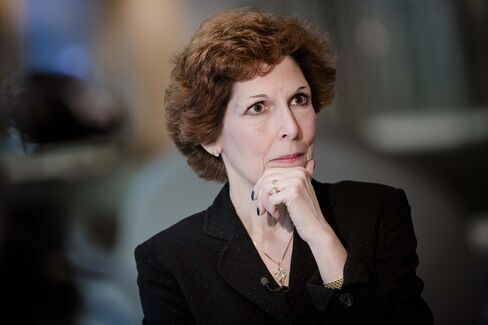 U.S. stocks neared all-time highs amid company earnings and data showing strength in the economy. Treasuries declined a second day as a rout in European bonds diminished the appeal of relatively higher American yields.
The Standard & Poor's 500 Index gained 0.3 percent by 4 p.m. in New York, within 0.2 percent of a closing record. The Stoxx Europe 600 Index rebounded from its biggest weekly slide this year as euro-area manufacturing expanded more than estimated. The euro weakened versus all but one of its 16 major peers. Yields on 10-year German notes jumped and rates on similar-maturity Treasuries climbed to a seven-week high. Brazil's real slid 2.4 percent. Gold futures rose 1.1 percent.
U.S. factory orders rose in March by the most since July, fueling speculation a winter slowdown in the economy may have been short lived. Manufacturers in the euro area raised prices for the first time in eight months in April. Earnings from Comcast Corp. and Berkshire Hathaway Inc. beat estimates, with more than 70 percent of S&P 500 members exceeding expectations for profit this season. Appaloosa Management LP's David Tepper said the benchmark index is still trading a little "cheap."
"With nothing negative coming from overseas, you're seeing a continuation of the positive price action," Michael James, a managing director of equity trading at Wedbush Securities Inc. in Los Angeles, said by phone. "We still have a pretty heavy slate of earnings this entire week, with a number of high-profile companies reporting, that'll probably be the focus for the next several days."
Don't Fight
The S&P 500's Monday gains extended its 1.1 percent jump from Friday, the biggest one-day gain since the end of March. The Russell 2000 Index, a gauge of small-cap shares that slipped 2.6 percent in April, climbed 0.4 percent after adding 0.7 percent on Friday. The Dow Jones Industrial Average was up 0.3 percent, about 1.2 percent away from its own record high.
Tepper, who runs the $18 billion Appaloosa hedge fund, said at a conference in New York Monday that investors shouldn't fight stimulatory central bank policy in the U.S., Europe, Japan and China because they are usually bullish for stocks.
"Don't fight four Feds," Tepper said. In December, he forecast the S&P 500 could rise 8 percent to 10 percent in 2015 based on the strength of the U.S. economy and fair price-to-earnings ratios.
Among stocks rising Monday, Cognizant Technology Solutions Corp. climbed 6.2 percent after reporting earnings that exceeded forecasts. McDonald's Corp. slipped 1.7 percent as the fast-food giant unveiled its turnaround plan.
David Einhorn
Diamond Offshore Drilling Inc. decreased 1.1 percent after saying it expects a downturn in demand for offshore drilling to last at least through next year as customers cut spending amid the crash in crude oil prices.
Pioneer Natural Resources Co. slipped 1.9 percent after David Einhorn, who runs hedge fund Greenlight Capital, criticized the company for spending too much money without returns. Einhorn was among several money managers speaking at the Sohn Investment Conference in New York on Monday.
Walt Disney Co. and Mylan NV also release earnings this week. Analysts have tempered their predictions for a corporate profit slump, now projecting a first-quarter drop of 0.4 percent, compared with April 17 calls for a 4.3 percent decline. Of the S&P 500 members that have already released results this season, 73 percent beat profit projections and 48 percent topped sales estimates.
Supercycle Ending
Bill Gross said the bull market "supercycle" for stocks and bonds is approaching its end, as the unconventional monetary policies that have kept it alive since the financial crisis are running out. Gross, manager of the $1.5 billion Janus Global Unconstrained Bond Bund, acknowledged that his calls for the end of the bond rally in both February and April of 2013 were made too early.
The euro slipped 0.5 percent to $1.1146, after surging 4.6 percent in April, its first monthly advance since the middle of last year.
"Last week's correction provided a good entry point for a lot of investors," Alessandro Bee, a strategist at Bank J Safra Sarasin, said by phone from Zurich. "Liquidity is still being poured into markets and the European economy is accelerating. The next step is to understand whether U.S. growth is really slowing, or whether we'll get a much-needed recovery in the second quarter."
China Speculation
Gold futures recovered from a six-week low amid speculation weakening economic growth will prompt officials in China to bolster stimulus. China rivals India as the world's top buyer of gold bullion.
Huatai Securities Co. and Tebon Securities Co. raised margin requirement for margin trading and short selling to control risks, Shanghai Securities News reported, without citing anyone. Haitong also cut the amount that clients could use securities as collateral for margin trading and short selling.
Futures on the FTSE China A50 Index traded in Singapore climbed 0.3 percent in most recent trading. Contracts on the Hang Seng China Enterprises Index, a gauge of mainland Chinese shares listed in Hong Kong, rose 0.6 percent, while futures on the broader Hang Seng gained 0.3 percent. The Bloomberg China-US Equity Index, which tracks Chinese stocks traded in New York, added 1.3 percent.
Brazil's real tumbled to 3.0865 per dollar to lead global declines as the central bank eased support for the currency and speculation mounted that policy makers will start to wind down interest-rate increases.
West Texas Intermediate crude slipped 0.4 percent to $58.93 a barrel, declining for a second day on prospects the global oil supply glut will grow. Prices touched $59.90 on May 1, the highest level since Dec. 11. The Bloomberg Commodity Index added 0.3 percent, rising for the fifth time in six days.
Before it's here, it's on the Bloomberg Terminal.
LEARN MORE