Disney's 'Avengers' Sequel Gets Upstaged by Mayweather Fight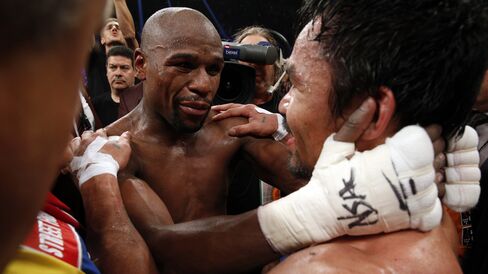 Iron Man and the gang took care of the villain Ultron, but their big-screen exploits were upstaged by a real-life fight.
"Avengers: Age of Ultron," the Walt Disney Co. sequel that reunites Iron Man with Captain America and other Marvel comic-book superheroes, saw some business siphoned off by the much-anticipated pay-per-view boxing match between Floyd Mayweather and Manny Pacquiao on Saturday night. That left the film with $187.7 million in U.S. and Canadian ticket sales its opening weekend, according to Rentrak Corp.
The haul was enough to register as the second-biggest movie debut of all time, behind its predecessor, "Marvel's the Avengers," which delivered a $207.4 million opening weekend in May 2012. Still, "Age of Ultron" missed Disney's own estimate of as much as $210 million, and others that surpassed $220 million. Besides boxing, the film was competing against the Kentucky Derby and the National Basketball Association playoffs.
"There was a massive amount of competition for audiences this weekend," said Paul Dergarabedian, senior analyst for Rentrak. "It shows you the power of a movie like the 'Avengers.' Any other movie wouldn't have been able to stand up to that."
The film knocked the debut of 2013's "Iron Man 3" to third place. That movie generated $174.1 million in sales, according to Rentrak.
"This gives Marvel the top three spots on the all-time North American openers chart," Dergarabedian said. "This is an astonishing feat."
Quick Start
The weekend started off strong for "Age of Ultron." Disney reported $84.5 million in sales on Friday, an amount that put the film on pace to make $200 million to $210 million for the weekend. The record set by "Marvel's the Avengers" was "in sight," Disney said.
The movie dropped off to $57.2 million on Saturday, according to Rentrak, below Disney's expectations when it estimated the film could break the $200 million weekend mark.
With all the competing sports, "We saw business being more impacted than we normally would have," said Dave Hollis, executive vice president of theatrical distribution for Walt Disney Studios. Only 44 percent of moviegoers chose to see it in 3-D, which Hollis said may reflect a shift away from the format by audiences.
"It's important to not call this a failure because it didn't break the record," said Phil Contrino, chief analyst with BoxOffice.com. "This is still a very successful movie."
'Star Wars'
"Age of Ultron" is projected to be the biggest film of the summer box-office season. Its competition for highest-grossing movie of the year is another Disney project, "Star Wars: The Force Awakens," which comes out in December. Disney also releases Marvel's "Ant-Man" and the Pixar film "Inside Out" in what is projected to be a record summer that tops $5 billion in U.S. and Canadian ticket sales.
"Age of Ultron" cost $250 million to make, according to Boxofficemojo.com. As of Saturday, it had taken in $304 million internationally, where it opened more than a week ago.
Overseas Heavyweight
With the film yet to open in China, analysts project "Age of Ultron" may outdo the first "Avengers" abroad. The first one generated $895 million in ticket sales outside the U.S. and Canada, reaching $1.52 billion in worldwide ticket sales.
The movie is running about 7 percent ahead of its 2012 predecessor in comparable foreign markets, Hollis said. When adjusted for currency fluctuations, "Age of Ultron" is 31 percent ahead.
Mayweather won last night's 12-round fight by unanimous decision. The contest was expected to draw more than $300 million in revenue, including pay-per-view revenue and ticket sales. It was widely attended by celebrities, from Jay Z and Beyonce to football star Tom Brady and actors Denzel Washington, Robert DeNiro and Mark Wahlberg. Many who didn't pay the pay-TV fee streamed the fight live over apps like Meerkat and Twitter Inc.'s Periscope.
BoxOffice.com had predicted "Age of Ultron" would take in $221 million in its opening weekend. Contrino said he expects the film to generate about $500 million in its domestic theater run, down from an earlier $567 million forecast. The first "Avengers" earned $623 million in domestic theaters.
Returning Heroes
The latest installment reunites Iron Man, played by Robert Downey Jr., Captain America, Thor, the Hulk and Black Widow, with actors Chris Evans, Chris Hemsworth, Mark Ruffalo and Scarlett Johansson reprising their roles.
When Tony Stark, Iron Man's alter ego, tries to jumpstart a dormant peacekeeping program, the villainous Ultron, played by James Spader, emerges. The film introduces new characters such as Quicksilver and Scarlet Witch, and sets up storylines for new installments that are planned in coming years.
Written and directed by Joss Whedon, who directed the first "Avengers," the installment scored well with critics, garnering 75 percent positive reviews, according to aggregator Rottentomatoes.com.
"For the most part, ''Avengers: Age of Ultron'' is the hard-charging, mind-boggling spectacle fans are looking for," Tom Long wrote in a review for The Detroit News.
Runners-Up
Returning films "The Age of Adaline," from Lions Gate Entertainment Corp., generated $6.3 million in sales to place second for the weekend. "Furious 7," from Universal Pictures, and Sony Corp.'s ''Paul Blart: Mall Cop 2'' placed third and fourth, collecting $6.1 million and $5.6 million respectively, according to Rentrak.
Weekend sales for the top 10 films surged 55 percent to $218.8 million from a year earlier, Rentrak said. Sales for the year to date have increased 5.6 percent to $3.48 billion.
The following table has U.S. movie box-office figures provided by studios to Rentrak. The amounts are based on actual ticket sales for May 1, 2 and estimates for Sunday.
                     Rev.    Pct.             Avg./   Total
 Movie              (mln)    Chg. Theaters  Theater   (mln) Wks
================================================================
1 Avengers: Ultron  187.7     --    4,276   43,886    187.7  1
2 Age Of Adaline      6.3    -53    2,991    2,090     23.4  2
3 Furious 7           6.1    -66    3,305    1,850    330.5  5
4 Paul Blart          5.6    -62    3,548    1,564     51.2  3
5 Home                3.3    -59    2,852    1,157    158.1  6
6 Cinderella          2.4    -15    1,411    1,670    193.7  8
7 Ex Machina          2.2    -58    1,279    1,744     10.9  4
8 Unfriended          2.0    -68    2,221      895     28.5  3
9 Longest Ride, The   1.7    -60    2,115      804     33.2  4
10 Woman In Gold      1.7    -50    1,126    1,493     24.6  5



Top 10 Films Grosses



   This Week     Year Ago      Pct.
     (mln)         (mln)       Chg.
===================================
    $218.8        $141.5      54.6



Year-to-date Revenue



     2015          2014
      YTD           YTD        Pct.
     (mln)         (mln)       Chg.
===================================
    $3,478        $3,292       5.6

Source: Rentrak Corp.
Before it's here, it's on the Bloomberg Terminal.
LEARN MORE