RBA Rate-Cut Call Galvanized by Aussie Hovering at 78 U.S. Cents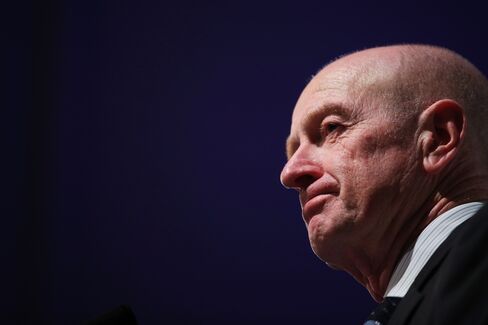 Traders and economists are the most united they've been this year that central bank Governor Glenn Stevens needs to cut rates Tuesday in the face of a stronger currency.
The market is pricing in a better than 75 percent chance borrowing costs will fall to a fresh record of 2 percent and 25 of 29 economists also predicted a quarter-point reduction.
Galvanizing the forecasts is a rebounding currency hovering at 78 U.S. cents and a stalled recovery in the price for iron ore that underpins export earnings. Policy makers also face the risk that firms outside of mining that were supposed to pick up the slack in the economy will actually reduce investment in an economy growing below it's potential.
"The recent surge in the Australian dollar would be viewed quite dimly by the folks at the Reserve Bank," said Bill Evans, chief economist at Westpac Banking Corp. Failing to cut rates "in the face of such strong market pricing will affect the bank's credibility over time," he added.
Tuesday's decision also dovetails with the release of the RBA's updated quarterly forecasts this week, which the board will see at the policy meeting but which won't be released publicly until May 8. In February, when Stevens cut the cash rate for the first time in 18 months, he cited the downgrade in growth forecasts in that month's Statement on Monetary Policy.
The RBA has shown a preference for moving in the same month that it releases quarterly forecasts, Evans said.
The last three cuts dovetailed with such updates and the same is true for more than half the moves made since Stevens became governor in September 2006, data compiled by Bloomberg show.
Tame Inflation
Australia's central bank also prefers to see the latest consumer price readings before moving. Core inflation remains at the lower end of the RBA's 2 percent to 3 percent annual target and the CPI rose closer to 1 percent on a year-on-year basis, data last month showed.
The Australian dollar has jumped more than 3 percent since the RBA's April 7 policy meeting, when it wrong-footed market rate-cut expectations, and was the best performing major currency outside the Norwegian Krone and Brazilian Real over the same period. The Aussie was at 78.20 cents at 12:22 p.m. in Sydney.
Government data last month showed the unemployment rate unexpectedly fell to 6.1 percent, as the economy added 37,700 jobs in March, more than double the number of positions predicted by economists. Sydney home prices also climbed 14.5 percent in April from a year earlier as buyers responded to record-low borrowing costs.
Mining Slump
The RBA is trying to encourage growth in services, manufacturing and retailing to offset the decline in mining investment that helped drive the past decade of Australia's 24 years of growth. It's had to cut rates to offset a currency that's been propped up by funds seeking higher yields as counterparts in Europe, Japan and the U.S. pursue quantitative easing.
The outlook for Australia's key trading partner, China, remains clouded as growth slows in the world's second-largest economy. A Chinese manufacturing gauge released Monday trailed economists' estimates in April as new orders declined.
The central bank's support for the economy is at odds with the federal government, which is trying to rein in deficits and has foreshadowed further savings in its annual budget to be released May 12.
"Fiscal policy is missing in action, financial conditions have deteriorated since the last rate cut, commodity prices are likely to fall again placing mining investment under pressure and we still have labor market concerns amid a backdrop of more moderate global growth prospects," Citigroup Inc. economists Paul Brennan and Josh Williamson said in a research report. They also predict a cut Tuesday.
Before it's here, it's on the Bloomberg Terminal.
LEARN MORE