Munger Says Job Cuts are Alternative to Russia-Like Failure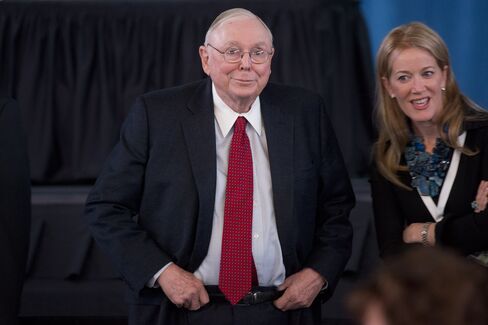 Charles Munger, the vice chairman at Berkshire Hathaway Inc., said he supported the job cuts by 3G Capital as essential to a productive capitalist system.
The alternative to cutting staff is "what happened in Russia," Munger, 91, said Saturday at Berkshire's annual meeting in Omaha, Nebraska. "The whole damn economy didn't work."
Jorge Paulo Lemann's 3G has emerged as a key partner for Berkshire, which is led by billionaire Warren Buffett. Their first venture together was taking H.J. Heinz private in 2013. 3G installed a new management team and eliminated more than 7,000 jobs at the ketchup maker in less than two years.
The cuts are designed to help improve margins at the Pittsburgh-based business, which pays Buffett a 9 percent annual dividend on his $8 billion preferred stake. Buffett told the audience that he never believed a company should have a bigger staff than needed, and that 3G treats departing employees well in terms of severance.
"Efficiency is required over time in capitalism," Buffett said. "I really tip my hat to what the 3G people have done."
Buffett teamed up again with Lemann's firm last year. Berkshire provided $3 billion in financing to help Burger King Worldwide Inc., a 3G-controlled business, buy coffee-and-doughnut chain Tim Hortons Inc.
Then, in March, Buffett and 3G engineered a deal to merge Heinz with Kraft Foods Group Inc. The combined company will be one of the largest packaged-food businesses in the world, with more than $25 billion in annual revenue.
Buffett's Tolerance
Kraft operations poised for the kind of belt-tightening that the buyout firm put into place at Heinz. When 3G's managers take over the combined company, they expect to wring $1.5 billion in annual costs out of the businesses.
Buffett praised the efficiency of Berkshire's Geico car-insurance unit, and the main office in Omaha, which has a staff of about 25. Berkshire has more than 80 units, and they aren't all run to the same standards, Buffett said.
"We do have some businesses where we probably have more people than we need, and I don't do anything about it," Buffett said. "But that doesn't mean that I endorse it. I basically tolerate it."
Munger acknowledged the pain caused to individual workers by cost-cutting and said the disruption is natural as an economy becomes more efficient.
"There's no question that waves of layoffs hurt people," he said. Still, "What would our country be if we kept everyone on the farm?"
Before it's here, it's on the Bloomberg Terminal.
LEARN MORE