Kerry in Sri Lanka to Urge Reform on Human Rights, Democracy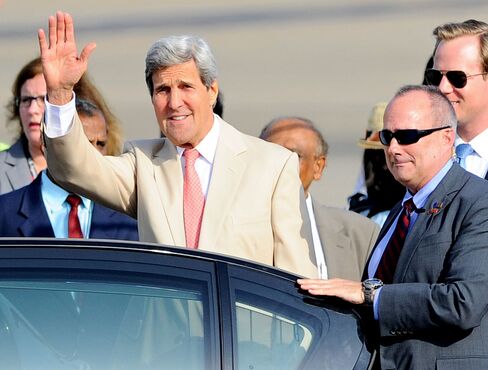 Secretary of State John Kerry arrived in Sri Lanka on Saturday to show support for the new government's efforts to undertake political reforms and tackle the legacy of the country's 30-year civil war.
Kerry praised the "tremendous leadership" of the island nation's government, saying that it acts on its rhetoric. "That's what makes this government important," he said at the Foreign Ministry. The "United States wants to work with Sri Lanka and help in any way we can to shape the future."
Kerry's 24-hour swing through Sri Lanka, the first by a U.S. secretary of state in a decade, comes as President Maithripala Sirisena is under fire for a lack of progress in his attempts to enact sweeping reforms after winning elections in January. Predecessor Mahinda Rajapaksa was unseated after a decade marked by allegations of corruption and nepotism.
"There have been some real questions about what this government has actually achieved in the last three months," Frederic Grare, director of the South Asia program at the Carnegie Endowment, a Washington policy group, said in a phone interview. "The situation is very fluid, and showing that Sirisena has been able to gain the support of the United States makes a lot of sense."
Kerry met today with Sirisena, Foreign Minister Mangala Samaraweera and Prime Minister Ranil Wickremesinghe. Tomorrow he will meet with the leader of the Tamil National Alliance, Rajavarothiyam Sampanthan. Kerry leaves Sunday for Nairobi, Kenya.
No Interference
Speaking at a press conference Saturday, Kerry said the U.S. doesn't want to interfere in Sri Lanka's internal affairs or regional relationships, stressing that he had come at the invitation of Sirisena and Samaraweera.
The U.S. "is not here to ask Sri Lanka to align with anyone, to refuse to have any other relationship or to involve itself somehow in other kinds of politics," Kerry said. "We welcome the strong relationship of Sri Lanka with any country in the world.
''We do care about the democracy,'' he added.
Speaking about territorial tensions in the region, Kerry said that U.S. officials ''reject any suggestion that freedom of navigation and overflight are somehow privileges granted by big states to small ones,'' Kerry said, without naming specific countries. ''They're not privileges, they're rights."
'Not Afraid'
Throughout his visit, Kerry stressed the importance democracy, human rights, civil society and religious minorities, as well advancing reconciliation, according to a State Department official who wasn't authorized to speak publicly.
"Sri Lanka is at a pivotal moment," Kerry said at the press conference today. "Peace has come but true reconciliation will take time."
Kerry said the president and prime minister "are not afraid of tackling tough issues" and lauded the government for making "progress that can be measured" towards restoring democratic institutions and creating accountability.
Sirisena was an ally of ex-president Rajapaksa in the Sri Lankan Freedom Party until late 2014. Then, working with the support of Freedom's traditional rival United National Party, he went on to win elections on a campaign that pledged to transfer power to parliament to and raise growth from a two-year low.
The passage of a constitutional amendment to shift authority to lawmakers showed "the president kept his promise to reduce the powers of the presidency," Kerry said. The government's progress on fighting corruption and on reconciliation "can lead to much more enduring peace and shared prosperity for all."
Before it's here, it's on the Bloomberg Terminal.
LEARN MORE