American Pharoah Is 3rd Straight Favorite to Win Kentucky Derby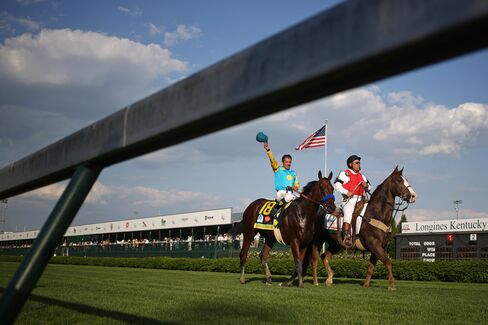 American Pharoah became the third straight favorite to win the Kentucky Derby, overcoming Firing Line and stablemate Dortmund down the stretch before a record crowd in the first leg of horse racing's Triple Crown.
While a field of 18 horses broke from the starting gate on Saturday, a three-horse race developed at Churchill Downs in Louisville, Kentucky. American Pharoah, the 5-2 favorite, outran Firing Line over the final furlong -- 220 yards -- to win by a length in a time of two minutes, 3:02 seconds.
American Pharoah follows California Chrome and Orb as Kentucky Derby winners, marking the first time since 1972-75 that at least three straight favorites have won the 1 1/4-mile (2-kilometer) race.
"To win, it never gets old," trainer Bob Baffert said after his fourth Kentucky Derby win and first since 2002. "I'm so lucky to be in this position. American Pharoah and Dortmund they ran their races, but this American Pharoah he just keeps bringing it. He makes a trainer really look good."
Baffert was also the trainer for Dortmund, the oddsmakers' second favorite in the race. Dortmund finished three lengths behind after leading for the majority of the race and only one other horse, Frosted, was within 6 1/2 lengths of the winner.
Victor Espinoza joined Calvin Borel as the second jockey to win back-to-back Kentucky Derby titles in the past 30 years. It was the third Kentucky Derby win for Espinoza, who was brought in to ride American Pharoah after the colt faded to fifth in his maiden race in 2014.
'Special Horse'
"He's been a special horse since the day I rode him," Espinoza said. "He's tremendous, he has a lot of talent. He flows around the track. Just an unbelievable horse."
Espinoza rode California Chrome to victories in the Kentucky Derby and Preakness Stakes last year. He'll now look to do the same with American Pharoah, with the Preakness scheduled for May 16 at Pimlico Race Course in Baltimore. Baffert and owner Ahmed Zayat haven't yet confirmed that American Pharoah will run in the 1 3/16-mile Preakness.
"We'll see what will happen," Zayat said after the race.
Horse racing hasn't had a Triple Crown winner since Affirmed in 1978. California Chrome won the first two races last year before finishing fourth in the Belmont Stakes. This year's Belmont is scheduled for June 6 in New York.
"This is one special horse," Zayat said in a televised interview. "I was very reluctant to hype him, but the horse does the talking. We were very privileged to have an unbelievable trainer. This is a dream come true."
The Triple Crown's first race drew a record crowd of 170,513. The turnout was probably boosted by ideal weather conditions, with a sunny sky and a race-time temperature of about 75 degrees Fahrenheit (24 Celsius).
Early Lead
The top three finishers led from the first turn, with Dortmund -- the 4-1 second-favorite -- taking the early lead, followed by Firing Line and American Pharoah.
The three horses started distancing themselves from the rest of the field at the final turn, when Espinoza swung American Pharoah out wide and caught Dortmund and Firing Line. American Pharoah and Firing Line ran almost side by side down the stretch before the son of 2009 Kentucky Derby runner-up Pioneerof the Nile separated himself for the win.
"Turning for home, I thought I got it," Espinoza said. "The other horse he was just right there next to me, I couldn't blow him away in the last eighth of a mile like I wanted to, but I got it done."
American Pharoah returned $7.80 to win, $5.80 to place and $4.20 to show. Firing Line paid off $8.40 and $5.40, while Dortmund, whose sire is 2008 Kentucky Derby winner Big Brown, returned $4.20 to show.
American Pharoah won his previous four starts by a combined 22 1/4 lengths and became the second horse to capture the Kentucky Derby from post 18, joining Gato Del Sol in 1982.
Before it's here, it's on the Bloomberg Terminal.
LEARN MORE