Wrangler Makes Comeback as Shoppers Rebel Against Skinny Jeans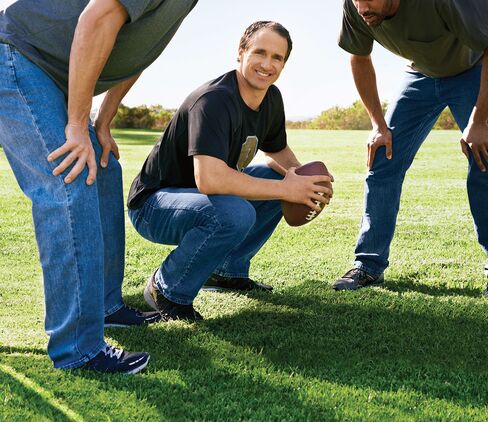 Skinny jeans are out. Wranglers are in.
The Western-themed jeans brand, known for dusty cowboy commercials in the 1980s, is making a comeback as more consumers seek roomier pants. Wrangler sales have grown for fourth straight quarters, climbing 9 percent in the most recent period.
Wrangler is courting shoppers with the message "Life is Comfortable," capitalizing on the shift from ultratight jeans and other restrictive attire. But Wrangler's parent company, VF Corp., isn't relying on nostalgia to fuel sales. The company has introduced new product lines that feature four-way stretch, wicking and sweat-controlling technology. It also has turned to athletes -- not cowboys -- to tout the brand, with an ad starring Drew Brees.
"If you make a product that is really comfortable but still has that style and functionality of denim, you've built a product that your consumer wants," Scott Baxter, president of Jeanswear Americas at VF Corp., said in an interview. "Denim can be worn to a lot more occasions than sweatpants."
The company is also coping with a shift to athleisure -- the trend of people wearing gym clothes as streetwear. When athleisure clothes took off in recent years, it began to hurt denim sales across the industry. So Wrangler set out to make its jeans as comfy as yoga pants or sweats.
While the shift primarily affected women's sales, the company wanted to update its men's jeans to address the changes, VF Corp. Chief Executive Officer Eric Wiseman said. As part of a push for innovation, the jeanswear division has worked for the last five years to develop new products based on consumer research. Now, those products are hitting shelves.
Ad Campaign
Wrangler last year introduced its "Advanced Comfort" products, which incorporate more stretch. This summer, the company will debut its "Cool Vantage" line, which wicks sweat five times faster than traditional denim, with the tagline "Cowboys never lose their cool." They're meant to appeal to men who work in the jeans, and the products will be promoted in campaigns on television, radio, billboards and in stores -- especially in Southwestern states.
Wrangler's results last quarter support strength in VF Corp.'s overall denim business, which reported 6 percent revenue growth excluding currency moves. The company, based in Greensboro, North Carolina, sells its jeans through retailers like Wal-Mart Stores Inc. and J.C. Penney Co. Wrangler has outperformed the company's overall jeanswear category for the last seven quarters.
Wrangler also makes jeans cut in a U-shape rather than a traditional V, for "more room where you need it most" in the crotch. Lululemon Athletica Inc. is taking a similar tack with its popular ABC pants (short for "anti-ball crushing"), a design the company says "gives you and the family jewels room to breathe."
Baxter said innovation will continue to be a hallmark of Wrangler products in the future as the brand appeals to a wide set of consumers.
"Wrangler transcends America," Baxter said. "He can go to work in it, or wear it to a ballgame, or put a blazer and a pair of boots on and feel great about himself."
Before it's here, it's on the Bloomberg Terminal.
LEARN MORE