U.K. Lib Dems Odds-On to Keep Power as Poll Losses No Obstacle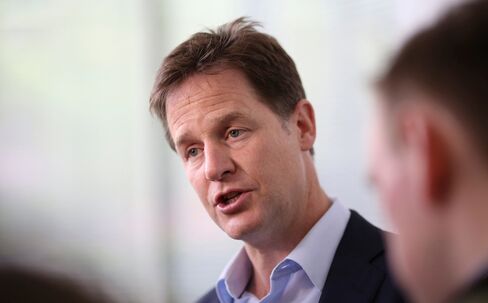 Nick Clegg's Liberal Democrats are languishing in opinion polls and expected to hemorrhage seats, yet the U.K. deputy prime minister's party has a more than 50 percent chance of remaining in power after Thursday's election.
Clegg dismisses the "cottage industry of punditry and pessimism" that is already writing his political obituary and is readying himself for coalition negotiations. He has even prepared a document on how public servants should behave to include in any agreement.
There are two reasons for Clegg to be confident. Firstly, the polls suggest neither Prime Minister David Cameron nor opposition leader Ed Miliband will win enough seats to form a government on their own; and secondly, surveys show his party is outperforming its national poll rating where it holds House of Commons districts.
"I'd bet my mortgage on it that neither of those parties are going to win a majority," Clegg, who went into coalition with Cameron in 2010, said in an interview. "Snapshot polls of the whole country don't tell you what's going on in the seats where we are competitive."
Analysis of possible outcomes by the pollsters Populus gives the Liberal Democrats a 55 percent chance of being in government, compared with a 28 percent chance for Cameron's Conservatives. They predict the Tories will win 279 seats and Labour 265, both short of the 326 needed for a majority.
Clegg, whose party is projected by Populus to take 25 seats compared with the 57 it won in 2010, is 4/1 to be deputy prime minister after the election, according to Paddy Power, meaning a 10 pound ($15) bet would return the original stake plus 40 pounds.
Kingmakers
"The Liberal Democrats could yet be the kingmakers, even though this election looks disastrous for them and this coalition will have cost many Lib Dems their seats," Andrew Russell, professor of politics at the University of Manchester, said in an interview. "They are potential coalition partners to either side, because they can face both ways. There are elements in both parties who think they've got fellow travelers in the Lib Dems."
Though for Clegg to be in government he first has to win his own seat, in Sheffield Hallam. Polls suggest it is too close to call, with a survey of 1,000 voters by former Tory lawmaker Michael Ashcroft between April 22 and April 28 giving Labour 37 percent to Clegg's 36 percent in the district. Ladbrokes have Clegg, who won 53 percent of the vote in 2010, 2/5 favorite to hold the seat.
A national poll by YouGov Plc published May 1 put Labour on 35 percent of the vote, just ahead of the Conservatives on 34 percent, with the U.K. Independence Party on 12 percent and the Liberal Democrats on 8 percent.
Voters in Bermondsey, south London, a Labour seat until it was wrested from them in 1983, give a hint of the way the party can win seats against the national trend. Labour activists are traveling from across the capital to try to unseat Liberal Democrat lawmaker Simon Hughes, yet he is also favorite with bookmakers to stay in post.
"I like him for here, he does a lot of good for this borough, though I don't necessarily like the Liberal Democrat party," said Sophie O'Connor, 27, who will be voting for Hughes, whom she regularly sees around the area. "I'm not sure I'd vote for them to be in total power."
Bedroom Tax
Activists campaigning in the district for Labour candidate Neil Coyle have found similar attitudes and are pressing Hughes's record of voting with Cameron's government as they seek to win voters around. Touring social housing in the district, they raised his support for a measure dubbed by opponents the "bedroom tax," which penalizes tenants receiving state support for their rent who have more bedrooms than they need.
"Imagine if you've been voting against the Tories all your life and would never dream of voting Tory then the bloke who stuck up for you suddenly starts supporting a Tory government," said Tom Flynn, as he co-ordinated a team of activists. "It's disappointing for a lot of residents that he swapped being a community champion for a ministerial car and a shot at being in government."
Party Discipline
The Labour argument highlights another factor that makes the Liberal Democrats attractive as coalition partners: The discipline of the party's lawmakers under fire as they voted through unpopular measures since 2010.
"The Liberal Democrats have been very disciplined in government, voting for the things they said they would," said Phil Cowley, who teaches politics at the University of Nottingham and studies parliamentary rebellions. "The question is whether they would be again, after a very bloody result. It's more likely they will be in government than either of the other two."
Clegg said the same level of discipline would not be needed next time around, but that his party had shown its mettle.
"We won't need to have that very tight discipline that we had to show in the first two years of this government to prove that a coalition can work," Clegg said. "We've shown that it can persist and we can stay the course."
For more, read this QuickTake: Britain's Multiparty Politics
Before it's here, it's on the Bloomberg Terminal.
LEARN MORE