Mester Sees Signs of Growth Bounce, Rate Liftoff at Any FOMC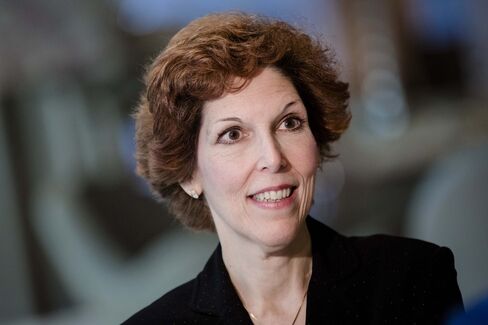 Federal Reserve Bank of Cleveland President Loretta Mester, in the first public comments of any policy maker since the Fed met earlier this week, sees signs the economy is rallying after a first-quarter slump.
"All meetings are on the table" for the first interest-rate rise in nine years, she told reporters Friday after a speech in Philadelphia. "We're getting close to the point where it's going to be time to lift off, and now it's going to be this decision based on the data."
The FOMC, which has held the main rate near zero since December 2008, said in its policy statement Wednesday some of the headwinds holding back the U.S. will probably fade and give way to "moderate" growth.
"The first quarter of course was a disappointment, and now we're assessing the data to see how much of that is transitory, which in my forecast most of it is," she said.
Mester, who doesn't vote on policy this year, said she will look "very carefully" at the two jobs reports before the next Federal Open Market Committee meeting June 16-17. "I can be agnostic at this point and just wait for the data" to show whether the slowdown is transitory or if it's "going to be a little more long lasting" in future reports, she said.
The world's largest economy expanded at a 0.2 percent percent annualized pace in the first quarter, down from 2.2 percent in the previous three months, restrained by harsh winter weather and delays at West Coast ports. Growth will rebound to 3.1 percent in the second quarter, a Bloomberg survey of economists shows.
Encouraging Data
Mester saw some encouraging data in reports Thursday. Wages and salaries in the U.S. rose 0.7 percent in the first quarter. Private wages, which exclude government workers, rose 2.8 percent in the last year, the biggest gain since the third quarter of 2008.
"Some of the data that came out yesterday was a little bit better than people expected, so in that sense it looks like things are coming back a little bit, but we have quite a bit of data coming out between now and the June meeting," Mester said.
Mester said she's also looking for a pickup in manufacturing. "We know that got hit in the first quarter, partly because of the West Coast port strikes," she said.
Should the rebound prove to be more lasting, she would back a rate increase at any gathering by policy makers.
"I'm going to go into each meeting with an assessment of the data that come in," Mester said. "I'm not taking any of the meetings off the table."
"Reasonably Confident"
The Fed repeated in its Wednesday statement that it will raise rates when it sees further labor-market improvement and is "reasonably confident" inflation will rise back to its 2 percent goal over time.
The Fed's preferred gauge of inflation has held stubbornly below the central bank's goal. The personal consumption expenditures price index rose 0.3 percent in March from a year earlier, matching the pace of the previous month, and it has been under the Fed's target since April 2012.
Inflation has been dragged lower by plunging oil prices and the stronger dollar, although these headwinds have abated in recent months, with U.S. oil prices steadying above $50 per barrel and the dollar retreating 2 percent against a basket of its major rivals since April 1.
"The stability in inflation that we saw is going to be important, that we don't have a reversal," she said. Mester also said the dollar would hurt exports and be a drag on growth. "The question is how much of that will be persistent."
Before it's here, it's on the Bloomberg Terminal.
LEARN MORE