Irish Central Bank Chief Honohan to Resign Early as Crisis Fades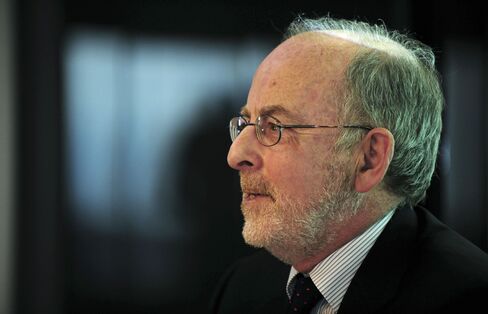 Patrick Honohan, the governor of Ireland's central bank who oversaw the rescue and restructuring of the nation's lenders, said he'll resign toward the end of this year.
The banks, which caused the country to seek a bailout in 2010 as they teetered on collapse, are moving into a "new chapter" and it's a "good time to go," Honohan told reporters in Dublin on Friday. Honohan is also a member of the European Central Bank's Governing Council.
The bespectacled, bearded Honohan, who previously worked at the International Monetary Fund and the World Bank, was hired in 2009 by then-Finance Minister Brian Lenihan to overhaul a central bank whose reputation was tarnished following the near-implosion of the country's lenders. He oversaw stress tests requiring taxpayers to commit as much as 64 billion euros ($72 billion) of capital to banks, and repeatedly urged the government to rein in public finances.
"The departure of Professor Honohan marks the end of an era," Finance Minister Michael Noonan said in an e-mailed statement. "He's left an enduring legacy in his contribution to the stability of the country which is now beginning to strengthen and grow."
Three months ago, Honohan oversaw the introduction of mortgage-lending limits for Irish banks, designed to prevent another bubble forming as house prices rebound.
Under Honohan's watch, the nation took over five of the six biggest domestic lenders as they buckled under a domestic real estate slump. Last year, Bank of Ireland Plc and Allied Irish Banks Plc, the largest two of the country's three surviving banks, returned to underlying profit for the first time since
2008.
Before it's here, it's on the Bloomberg Terminal.
LEARN MORE