Iowa Sick Birds Prompts Governor to Declare State of Emergency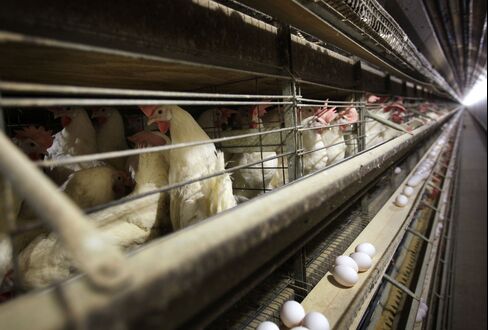 Another 1 million egg-laying hens in Iowa probably has succumbed to bird flu, deepening what is becoming the worst such outbreak in U.S. history and prompting the governor to declare a state of emergency.
Three more turkey farms also probably have highly pathogenic avian influenza. About a quarter of the laying hens in the state are confirmed positive for the virus or are presumed to have it, Iowa Secretary of Agriculture Bill Northey said Friday at a press conference. The state is the top U.S. egg producer.
Governor Terry Branstad joined his counterparts in Minnesota and Wisconsin in declaring a state of emergency. The disease has spread rapidly through the Midwest since the beginning of March, after being first detected in wild birds in the western U.S. late last year. At stake is the roughly $48 billion made annually from domestic poultry and eggs, government figures show. Poultry buyers in the Middle East and Asia have placed restrictions on American imports.
"This is of a magnitude much greater than anything we've dealt with in recent modern times," Branstad said Friday at the conference. "This particular avian influenza is a disaster emergency that we need to take very seriously and need to do everything we can to try to minimize the loss and help the people that are affected."
If the probable cases announced by Iowa are confirmed by the U.S. Department of Agriculture, it would push the national total of birds affected to more than 20 million. That would top the last major domestic outbreak of the virus that spread in 1980s and would be the biggest since at least 1924, government data show.
Farm Income
"We're already concerned about farm income," Branstad said. "It's going to be a challenging time for agriculture."
The emergency proclamation authorizes the deployment of available state resources, supplies, equipment and materials to track and monitor flu cases as well as to help contain the spread of the virus.
Minnesota, No. 1 turkey producer, also said Friday that there are probably more cases in the state. Governor Mark Dayton on Friday signed a bill authorizing $893,000 in emergency funding to fight the flu outbreak, which has impacted more than 70 farms in 19 counties of the state.
Hog futures in Chicago have climbed for two straight weeks partly on speculation that tighter poultry supplies will prompt more consumers to switch to pork. The disease has mainly affected turkeys and egg hens, while broiler chickens, those that end up on the dinner table, have largely been spared.
Before it's here, it's on the Bloomberg Terminal.
LEARN MORE