Fidelity Ads Say Its Human Stock Pickers Can Still Beat Indexes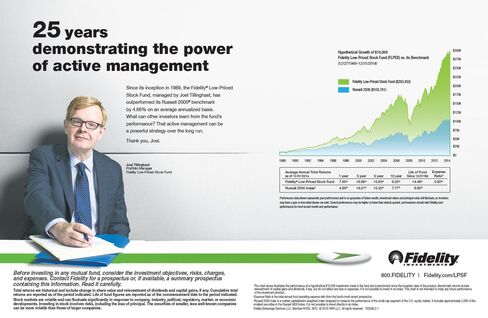 Fidelity Investments is going back to its roots.
In a series of print advertisements, the money manager is highlighting the track records of some of its top stock pickers. One ad, featuring Joel Tillinghast, whose Fidelity Low-Priced Stock Fund has far outpaced rivals under his tenure, carries the headline: "25 years demonstrating the power of active management."
Fidelity, which built its reputation on the performance of stock pickers like Peter Lynch, is speaking up for active management to counter the growing belief that index funds are a better choice. In a recent Bloomberg Markets Global Poll of financial professionals, 42 percent of respondents recommended indexed products as the best option for retirement savings. Only 18 percent voted for actively managed funds.
"The cry for passive has gotten louder over the past five years," Brian Hogan, president of Fidelity's equity division, said in an interview at the firm's Boston headquarters. "My sense is we are entering a period where active funds will do better."
Investors poured more than $1 trillion into indexed equity vehicles, mutual funds and exchange-traded funds, in the five years ended March 31, according to data from Chicago-based Morningstar Inc. Funds run by stock pickers experienced $266 billion in redemptions over the same stretch.
Beating Targets
Performance explains some of the shift in sentiment. Among active funds that buy U.S. stocks, only 21 percent beat their benchmarks over five years, Morningstar data show. Fidelity has done better, with about 50 percent of its domestic stocks funds beating their targets.
Still, the firm, with almost $800 billion in active equity funds, has seen investors pull money from its stock picking funds in three of the last four years, according to Morningstar.
The most popular Fidelity fund over the past year: a Standard & Poor's 500 Index fund, which attracted $7.3 billion in investor contributions.
The advertisement featuring Tillinghast has been running since December, when he marked his 25th anniversary as manager of the $46 billion Fidelity Low-Priced Stock Fund. In the 25 years ended March 31, he gained 14 percent a year compared with 8.5 percent for his benchmark, the Russell 2000 Index, according to data compiled by Bloomberg.
A second ad highlights Bill Bower, who runs the $25.4 billion Fidelity Diversified International Fund. Upcoming ads, said Hogan, will focus on Matt Fruhan, whose funds include the $3.1 billion Fidelity Large Cap Stock Fund and William Danoff, manager of the $112 billion Fidelity Contrafund since 1990.
Name Recognition
The purpose of the ads, in Barron's and the Wall Street Journal, said Hogan, "is to introduce the funds to new customers and remind existing customers what we have done."
None of the current crop of managers has the name recognition Lynch commanded when he piloted the Fidelity Magellan Fund. Between 1977 and 1990 he returned 29 percent a year compared with 15 percent for the S&P 500 Index.
"The resources and team we have behind the manager are more important than the manager's name," said Hogan.
James Lowell, who tracks Fidelity's fortunes as editor of Fidelity Investor, a newsletter, said the advertising campaign is a move in the right direction, because the advocates of passive management have been dominating the public debate.
"Fidelity is the poster child for active management," he said in a telephone interview. "They need to step up and make the counter-argument."
'Embrace Heritage'
Los Angeles-based Capital Group, which also manages about $800 billion in actively-run stock funds, has stepped up marketing efforts as well. Over the past two years the company published two research papers, one showing how its own American Fund managers have done versus benchmarks, and another demonstrating that stock pickers with low expenses and high manager ownership usually outperform.
"We believe in what we do, even if at times the world doesn't," Timothy Armour, Capital's head of mutual funds, said in an interview in 2014.
Fidelity published a paper of its own last year, arguing that the relative performance of active and passive managers goes through cycles. While the period since the financial crisis has been a tough time for stock pickers, conditions are changing, the paper concluded, "pointing to the possibility that a new multiyear cycle favoring active management is under way."
In the first quarter of 2015, 50 percent of active managers who buy U.S. stocks beat their targets.
"The tide is turning," said Hogan. "We expect to beat our benchmarks."
Before it's here, it's on the Bloomberg Terminal.
LEARN MORE