Ex-Massey CEO Blankenship's Taping System May Haunt Executive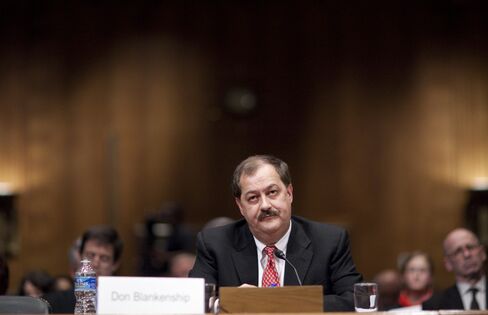 Former Massey Energy Co. chief Donald Blankenship set up a taping system that captured some office conversations about mine safety that are now in the hands of prosecutors charging him over the worst U.S. coal disaster in 40 years.
Blankenship had three recording devices installed in his office and taped as many as 1,900 conversations, some of which revolved around mine operations that are the focus of the charges, said Victor Hou, a lawyer who led a probe of Massey's operations for Alpha Natural Resources Inc., which bought the energy firm in 2011.
Hou said he "disclosed the existence of the recording devices and the recordings promptly" to federal prosecutors after learning about them in 2011, according to a transcript of the attorney's testimony in Blankenship's lawsuit over Alpha's refusal to cover his legal fees.
Blankenship is accused in a 43-page indictment of routinely instructing company executives to focus on coal extraction and turn a blind eye to safety problems before the 2010 Upper Big Branch Mine explosion that killed 29. Excerpts from the recordings include Blankenship wondering whether "we'd blow ourselves up" without the government safety regulators he routinely criticized in public.
The recordings also include discussions of whether the company was violating financial disclosure requirements. While that topic hasn't surfaced in the criminal case against the former chief executive officer, Blankenship can be heard in a conversation about stock options joking about going to jail, according to the transcripts.
"It's rare for a corporate executive to adopt the Nixonian mindset of installing a taping system for the purpose of recording conversations," said Jacob Frenkel, a former federal prosecutor, alluding to the White House recordings that helped lead to President Richard Nixon's resignation in the Watergate scandal.
'Bite Them'
"Some executives seem to have a Teflon mentality that allows them to believe something like a taping system won't come back to bite them down the road," said Frenkel, now in private practice in Washington.
As part of a 2011 non-prosecution agreement, Alpha "produced relevant recordings to the government," Hou told Delaware Chancery Court Judge Andre Bouchard during an April 8 trial over Blankenship's claims Alpha reneged on an agreement to pay his legal fees.
Blankenship has pleaded not guilty. His lawyer in the criminal case, William Taylor of Zuckerman Spaeder LLP, didn't immediately return a call seeking comment Thursday on the recordings.
Robin Justice, a spokeswoman for U.S. Attorney Booth Goodwin in Charleston, West Virginia, also didn't respond to phone and e-mail messages Thursday seeking comment.
Explosive Dust
Blankenship is accused of conspiring to ignore basic mine-safety measures, such as controlling explosive dust and providing proper ventilation, to increase coal production.
Prosecutors allege he ordered executives to alert managers and miners when federal inspectors were on site so that violations could be hidden. Workers were threatened with the loss of their jobs if they reported violations, prosecutors said. His case is set for trial in July in federal court in Beckley, West Virginia.
Blankenship had a contentious relationship with federal inspectors, publicly belittling their mining expertise and blaming them for botching the probe into the cause of the Upper Big Branch explosion.
Criticizing Regulators
In April 2014, he released a video absolving himself of blame for the safety violations at the mine and harshly criticizing regulators and political enemies.
Blankenship stepped down as Massey's top executive in December 2010 with a $12 million retirement package just before Bristol, Virginia-based Alpha, the second-largest coal producer by sales, acquired the company for $7.1 billion.
Blankenship contends he signed agreements with both Massey and Alpha that require the firms to pay all legal bills stemming from actions he took while running the coal company. When Alpha officials cut off indemnity payments after his indictment, Blankenship sued in Delaware Chancery Court in February.
Bouchard must decide whether Blankenship violated the terms of the legal-fee agreement by knowingly engaging in "unlawful activities." That would justify Alpha Resources' decision to cut off indemnity payments under Delaware law. Blankenship has paid his lawyers $1 million to cover some of his legal costs during the dispute over the agreement, his attorneys said in the transcript.
Internal Probe
Hou, a partner at New York-based Cleary Gottlieb Steen & Hamilton LP, said after Alpha reached its deal with prosecutors, it started an internal probe of Massey and discovered the taping system, according to transcript from the Delaware case.
Blankenship's attorneys said in an April 28 court filing in the West Virginia case that prosecutors said they have "well more than 100 hours of Mr. Blankenship's recorded conversations" that may be used against him.
In the Delaware case, Hou noted that Blankenship's recorded comments about the Mine Safety and Health Administration were at odds with the public scorn he routinely heaped upon regulators.
"It says, 'Sometimes, I'm torn with what I see about the craziness we do. Maybe if it weren't for MSHA, we'd blow ourselves up. I don't know,'" Blankenship said on the tape, according to Hou's testimony.
"I know MSHA is bad, but I tell you what, we do some dumb things," Blankenship said, according to the transcript. "I don't know what we'd do if we didn't have them."
Sarbanes-Oxley
Hou said that Blankenship is heard on another tape complaining Massey's computer problems may have caused the company to violate the Sarbanes-Oxley law's requirements for adequate revenue-reporting systems.
Alpha officials considered Blankenship's statement about the possible Sarbanes-Oxley violation when deciding whether to cut off legal-fee payments, Hou said. None of Massey's securities filings he'd reviewed provided any "notification or disclosure of any weakness" in revenue-reporting systems, Hou said.
Blankenship's lawyers played an excerpt of a 2009 conversation in which he urged his subordinates to tighten up on safety issues to avoid mine fires.
"I don't want to go to 100 funerals," Blankenship told then-Massey president Baxter Phillips Jr. in a taped conversation played for Bouchard.
If fire danger isn't addressed, he told Phillips, "You may be the one that goes to jail."
'Helpful' Recordings
With Blankenship controlling the taping system, Hou said many of the conversations he reviewed were clearly captured because they had "helpful information to Mr. Blankenship."
"There was abundant evidence that when he wanted to make recordings that would be helpful -- that he made those recordings," the lawyer said.
One conversation that may not be helpful involved Blankenship and his subordinates talking about the sale of Massey stock options.
Alpha's lawyers played part of the taped conversation for Bouchard in which Blankenship joked that he'd let someone else "worry about it if I go to jail" in connection with the option sale.
Joseph Farnan, a former federal judge who also served as the U.S. Attorney for Delaware for a four-year period starting in 1981, said prosecutors in West Virginia probably smiled when Alpha executives handed them Blankenship tapes.
"It is probably not good news for Mr. Blankenship that the prosecutors were interested in those tapes," he said. "It's always a bad idea to tape yourself."
The Delaware case is Blankenship v. Alpha, CA10610, Delaware Chancery Court (Wilmington). The criminal case is U.S. v. Blankenship, 14-cr-00244, U.S. District Court, Southern District of West Virginia (Beckley).
Before it's here, it's on the Bloomberg Terminal.
LEARN MORE