Deloitte Manager Finds Maple Syrup Life Sweeter: A Day's Work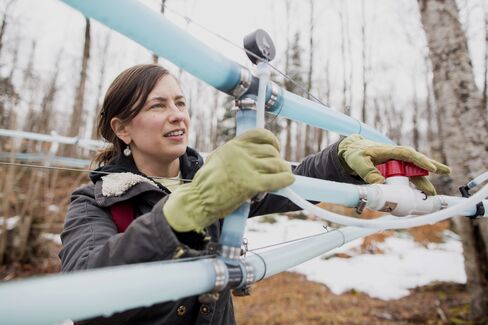 This tangle of branches, mud and snow in the northern reaches of Vermont was the woods of her childhood and now April Lemay is back. Once the manager of 200 financial consultants, she moves cat-like through familiar terrain, managing her sap lines, listening for the telltale hiss of a leak. Maple syrup season has been brutish and short this year, production is down, but there is a smile breaking out across her face.
"Being out here is one of my favorite parts of the job," she said late last week. "It's so quiet," and so far from the Boston office of Deloitte LLP, one of the Big Four consulting and accounting firms, where Lemay was named a partner at the precocious age of 32.
Lemay, now 40, took a year's leave last June to see if making maple syrup rather than advising the nation's largest asset managers is her singular calling. She's among a handful of women who produce syrup in Vermont, according to Matthew Gordon, who directs the state's 1,000-member maple sugar makers association.
Lemay runs marathons and triathlons and doesn't do much without a plan. She took first steps toward a different life in 2012 when she used her savings to start "April's Maple," her line of the Vermont sweetener sold wholesale, retail and online.
She bought 813 acres of her late grandfather's land from her mother and five aunts and built a two-story sugar house in the Canadian border town where she grew up, Canaan, Vermont. She hired her parents, Serge and Donna, both retired restaurateurs.
After a couple seasons of syrup woven between 15-hour days at Deloitte, Lemay was burning out. She was torn between her life in Boston and the one in Canaan, between the rush of jetting coast-to-coast and a quiet walk down a dirt road.
"I had too many balls in the air and at some point I wanted to be true to myself and everybody around me," she said.
Her decision to take a leave was more than the reset on a career. A year before, she'd hired an acquaintance from her high school days, Sage D'Aiello, to help out with the syrup business. He later admitted he took the job just so he could ask her out. She demurred at first, then went to dinner, then fell in love with him and his two young daughters. The four live together in D'Aiello's house in Canaan in anticipation of a June wedding.
Sap Season
Her year's absence ends in a month and has flown by, she said. It hasn't been easy.
The sap season usually goes from the middle of March to the end of April. The winter in Canaan, population 972, was longer and colder than usual. The deep freeze pushed Lemay's first large-scale sap boil to April 10 with the last one this past Tuesday for a mere 18 days of production.
Lemay says she'll miss last year's 4,040-gallon total by 10 percent. But she says she'll break even for the first time with an estimated $300,000 in gross revenue -- a number that represents less than half of her Deloitte salary.
Vermont is far and away America's syrup leader, producing 1.3 million gallons last year or 40 percent of the U.S. crop. And with price stability and greater demand for healthier sweeteners, more syrup-makers are getting into the act, according to Gordon, the association director.
A 20-minute drive from Lemay, in Island Pond, Vermont, Sweet Tree Holdings LLC has plans for a half million tree taps that would make it the largest producer of maple syrup in North America. Lemay says she's not worried: more producers only help her by raising consumer awareness.
She taps 13,200 maples in the nutrient-rich soil her beloved grandfathered once logged. Elmont "Monty" Jackson tapped only 150 trees. He made syrup for family and friends when the logging season slowed, chewing a cigar from one corner of his mouth and sipping a cold Schaefer beer from the other.
Lemay's approach is decidedly more sophisticated. She has invested close to a million dollars in equipment alone including a shiny indoor evaporator nearly two stories high.
The old sap bucket has largely passed out of use and into gift shops, replaced with a network of suspended tubing. Lemay has more than 150 miles of the blue plastic crisscrossing her sugar bush, flowing from every maple into bigger tubing and finally into giant tanks inside the sugar house. A secondary set of vacuum tubing runs in tandem to help pull the sap from the trees, drastically increasing output.
Inside, a reverse-osmosis machine takes 50 percent of the water out of the sap. That cuts boiling time in Lemay's oil-fueled evaporator and saves energy.
Maple Candies
As efficient as the mechanics are, Lemay says success lies in her retail shop, website and dining area. Shelves stocked with four grades of her syrup, T-shirts and maple candies greet the visitor. A gallon of syrup goes for $49.95, a few dollars more online.
In the dining area the same day Lemay was checking her sap lines, a dozen women arrive from the Colebrook, New Hampshire, chapter of the Red Hats Society to celebrate a birthday. Members of the social club help themselves to chili and hot dogs. Then they're treated to a popular throwback ritual called "sugar on snow." Heated syrup is drizzled over a trough of freshly-packed powder. The syrup turns to taffy-like goo and is jabbed with popsicle sticks, gobbled up free of charge.
Lemay enjoys mingling, collecting compliments for a business designed to draw a crowd. Her syrup sales are 65 percent wholesale and 35 percent retail. In order to drive up revenue, Lemay is working to flip the ratio and sell 65 percent at retail. She gets a higher price for the syrup she sells at her website, the several shops around Vermont she supplies and her own store.
Born in 1974, the syrup entrepreneur has one younger brother. The family homestead is set in piney woods so close to Canada that the backyard touches it. She fondly recalls sledding and snowshoeing the 150-foot-wide borderline swath that separates the two nations.
She graduated third in a class of 21 from Canaan Memorial High School before traveling across state to college at St. Michael's in Colchester. She graduated magna cum laude with a bachelor's degree in accounting and computer science and was hired by Deloitte.
She knows she won't go back in her previous capacity when her leave ends. She may not go back at all. Those conversations with her employer will begin in a week or so, she says.
But already she's made the biggest decision to put her family and the Vermont woods back into her life. "What I'm trying for is a sense of community, reconnecting with my roots," she said.
"She's a Canaan girl at heart," said her fiancé, part-owner and operator of his family's Christmas tree farm.
Lemay insists hers is not the story of a woman who feels she must give up the corporate life now that she has other commitments.
"It's more about really finding in your heart what you're meant to do," she said. "And if you're not taking time to smell the roses and walk through the maple trees, when are you going to do that?"
Before it's here, it's on the Bloomberg Terminal.
LEARN MORE