Chevron's Watson Sticks to Plan for Rising Output Amid Slump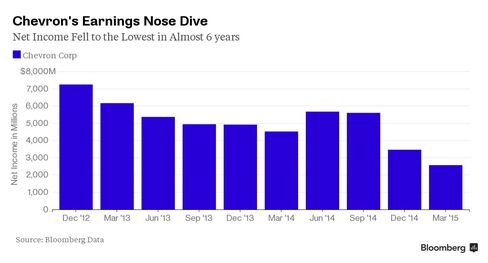 Chevron Corp.'s plan to lift output 20 percent in three years is on track, Chief Executive Officer John Watson said, despite an oil-price slump that bled $5 million a day from the company's U.S. oil and gas wells.
The company's biggest production increase in half a decade and new crude and natural gas developments from Australia to Bangladesh to the Gulf of Mexico demonstrate that Chevron will "deliver significant cash flow and production growth by 2017," Watson said in a statement disclosing first-quarter results on Friday. Those results included a $460 million loss in Chevron's U.S. oil and gas unit.
Net income fell to $2.57 billion, or $1.37 a share, from $4.51 billion, or $2.36, a year earlier, the San Ramon, California-based company said in the statement. The per-share result was 74 percent higher than the 79-cent average of 20 analysts' estimates compiled by Bloomberg, the biggest earnings surprise in more than a decade for the company.
Profit from Chevron's oil refineries doubled during the quarter to $1.42 billion as the crude-market rout cheapened the feedstock used to manufacture gasoline and diesel. But the $1.56 billion earned by Chevron's oil- and gas-producing business was the worst performance since the second quarter of 2009. The company ended the January-to-March period with $12.7 billion in cash on hand.
Chevron fell 1.8 percent to $109.04 at the close in New York. The shares have declined 2.8 percent this year.
Crude King
Watson has slashed billions of dollars in spending, jettisoned lower-profit ventures and put $15 billion in oil fields, pipelines and other assets on the auction block in response to the rout in energy markets. Share buybacks that absorbed $5 billion in cash last year were halted in January.
The second-largest U.S. oil company by market value capped a week of lower industry profit announcements. So-called supermajors such as Exxon Mobil Corp., Royal Dutch Shell Plc, Total SA and BP Plc all posted their worst quarterly results in years as the free-fall in energy markets eroded cash flows.
Brent crude, the benchmark for most of the the oil traded outside the U.S., averaged about $55 a barrel during the first quarter, down from more than $107 a year earlier. In Chevron's oil and gas business, output is 67 percent crude; the rest is natural gas.
Before it's here, it's on the Bloomberg Terminal.
LEARN MORE