Boston Waits for First 70-Degree Day as Calendar Says Spring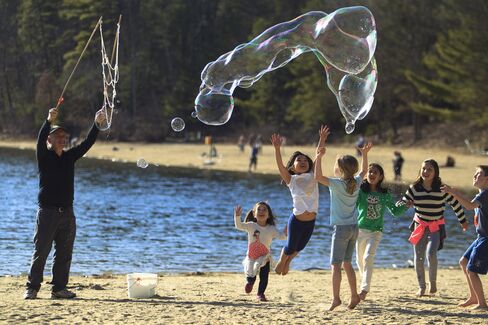 At long last, Boston, spring!
Of course, after a record 110.6 inches (281 centimeters) of snow, a high of 50 with a sunny sky, even with a brown lawn, feels practically summer-like.
Call it a case of warped perception.
It's like when you are driving 65 miles (105 kilometers) per hour and slow to 45 mph, said Michael Schlacter, a meteorologist with Weather 2000 Inc. in New York. That feels as though you're crawling along.
"After this winter, 60 degrees seems like 90," he said.
So on Monday, when Boston's high is forecast to reach 73 Fahrenheit (23 Celsius), it will be time to fire up the barbecue. The air conditioner may have to go on, too, which will cheer the hearts of natural gas traders.
The reality is, the 70-degree milestone is late this year. On average, Boston reaches that by April 19, the National Weather Service said.
Even Minneapolis and Chicago have had 70-degree days, cracking the mark in March, the agency said.
The latest Boston has gone without one was in 1995, when the high reached 75 on May 18, according to weather service records.
Unusual Year
A look back highlights how unusual this year is. In 2014, the first 70-degree day was April 14; in 2013, it was April 19; and in 2012, it was March 12, the weather service said.
Who knew 2012 would already be the object of nostalgia?
Simply going by the numbers, Schlacter likes to say, the Northeast has had a truncated spring.
"It was only a couple weeks ago that we were talking about snow, blustery winds and sleet in a lot of the big cities," Schlacter said. "The bottom line is we only really had a four-week spring."
Schlacter said 70-degree weather was also late in New York and Hartford, Connecticut, arriving in April. At the same time, the first 80-degree day showed up in both places early, he said.
"Warmth is going to start to build up on I-95," Schlacter said.
The eastern U.S. has a high chance of above-normal temperatures from May 5 to 9, according to the U.S. Climate Prediction Center in College Park, Maryland. Those higher readings may linger through May 13.
New York may reach 80 by Tuesday and stay above 70 all the way through May 9, according to MDA Weather Services in Gaithersburg, Maryland. Washington is forecast to stay in the 80s through next week, Chicago will flirt with the 70s and Boston's high may go no lower than 69.
Imagine that, 69 or higher -- it's practically a heat wave.
Boston hasn't had a stretch of warmth like that since October.
Time to open up the pool.
Before it's here, it's on the Bloomberg Terminal.
LEARN MORE