BNP's Billion-Dollar Payout Untapped by al-Qaeda Victims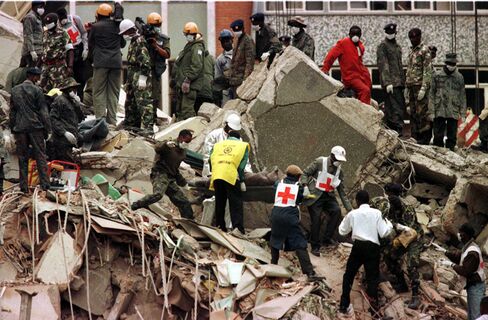 Victims of the 1998 bombings of U.S. embassies in Africa who came to Manhattan hoping for a piece of a $9 billion forfeiture from BNP Paribas SA instead got a New York welcome. A judge wouldn't let them speak in court and prosecutors said they still haven't decided whether victims will get paid.
About 20 victims appeared in Manhattan federal court on Friday as a judge formally ordered France's largest bank to pay a record $8.97 billion to settle a U.S. criminal case that it violated sanctions by processing transactions involving Sudan, Iran and Cuba. They and others are seeking as much as $2.5 billion.
The victims argue they're entitled to part of the payout because al-Qaeda exploited illicit financial ties between BNP and Sudanese banks. They'll leave New York almost empty-handed. U.S. District Judge Lorna Schofield said they couldn't speak in court, and the U.S. lawyers who will decide whether to compensate them announced only that the government had set up a website for victims of terror to seek compensation.
James Ndeda, a Kenyan who suffered a skull fracture in the bombing, said that provides little comfort.
"We put our lives at risk to work for the U.S. government abroad," Ndeda, 44, said outside the courtroom. "It's been a struggle. We thought the government would be able to say something today and compensate victims."
Probation Sentence
The sentencing, in which the judge also ordered BNP to serve five years of probation, marks the conclusion of a case with roots dating to at least 1997. In its guilty plea in July, BNP admitted it conducted transactions on behalf of blacklisted Sudanese banks from 2006 to 2007, eight years after the embassy bombings.
In a statement of facts that accompanied the plea, the bank also said its Geneva office became the primary European bank handling transactions in Sudan starting in 1997, following an executive order from President Bill Clinton instituting sanctions against the country.
Lawyers for the victims say it's likely that wire transfers BNP facilitated were part of the preparations for the twin bombings in Kenya and Tanzania on Aug. 7, 1998, which killed 224 and injured many others. They want the Justice Department to award them compensation -- and hoped to hear the announcement on Friday.
"These people came from Nairobi," victims' lawyer Bill Wheeler said after court. "After 17 years of waiting, the government says, 'We'll put up a website and think about it for 90 days'?"
Violate Embargoes
According to prosecutors, BNP helped process $6.4 billion in transactions for Sudan, more than $686 million for Iran and $1.75 billion for Cuba. The bank admitted in its guilty plea that it conspired from 2004 to 2012 to violate embargoes imposed on the three nations designated by the U.S. as state-sponsors of terrorism. The penalty was agreed to and made public at that time.
"BNP Paribas played a primary role in that conspiracy, with senior officials at the bank willing to employ elaborate and sophisticated techniques to enable the conspiracy to succeed," Assistant U.S. Attorney Andrew Goldstein said in court in July. "Senior officials at the bank knew about the illicit transactions and allowed them to continue."
The probation ruling will require the bank to enhance its compliance practices and cooperate fully with the U.S. government. Since last year, BNP's actions have been supervised by a government-appointed monitor.
Paid Billions
"In the past 10 months, the organization has taken many steps to strengthen compliance," Georges Dirani, BNP's top lawyer, told the judge on Friday.
The bank has already paid billions of dollars to the Manhattan District Attorney, the Federal Reserve and New York's Department of Financial Services as part of related cases. Because those payments will be credited against BNP's fine in the U.S. case, BNP paid $3.8 billion to the Justice Department.
The decision on whether to pay the victims rests with Loretta Lynch, who was sworn in as U.S. Attorney General on Monday. In court, there was no legal argument on the compensation issue, and Schofield didn't permit the victims to speak while adding that "they have other means for recourse."
The new website can be used by all victims of terrorism sponsored by Sudan, Iran and Cuba from 2004 to 2012. Victims of the bombings have until July 30 to submit a claim.
Doreen Oport, 50, who worked at the Nairobi embassy and suffered injuries to her back, came to court wanting a resolution.
"They're telling us to go to a cloud and put in our claims on a website. It's not enough," she said afterward. "We are going to have to relive our injuries again by telling our stories yet again in these claims."
The case is U.S. v. BNP Paribas, 14-cr-0460, U.S. District Court, Southern District of New York (Manhattan).
Before it's here, it's on the Bloomberg Terminal.
LEARN MORE