A Second Goldman `Secret Sauce' Conviction Headed for Appeal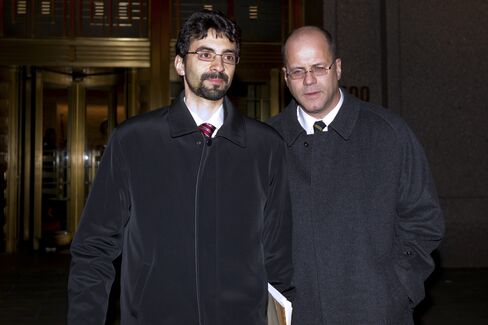 Goldman got its man -- again. It remains to be seen, however, whether this verdict sticks any better than the first one.
Sergey Aleynikov, the bespectacled former Goldman Sachs Group Inc. programmer accused of pilfering the bank's "secret sauce" trading code, was convicted by a New York state jury of a single count of "unlawful use of secret scientific material." Jurors deadlocked on a second similar count and acquitted him on a third charge of unlawful duplication.
The conviction was the second in five years for the 45-year-old Aleynikov, who began working for Goldman in 2007 and left two years later for a Chicago high-speed trading firm -- taking Goldman code with him. Aleynikov, a dual Russian and American citizen, never denied copying code -- he simply argued it wasn't a crime. The code, his lawyer argued, was open-source and didn't belong to the bank.
The verdict came after eight days of deliberations, with jurors asking the judge several times to read back transcripts of testimony, and some bizarre courtroom antics in which one juror accused another of attempting to poison her lunch with a tainted avocado. The incident almost led to a mistrial after New York Supreme Court Justice Daniel Conviser booted both off the case.
Later, Aleynikov's attorney, Kevin Marino, agreed with prosecutors to proceed with the diminished jury -- a bet, perhaps, that jurors were leaning toward acquittal. If so, he may now regret the decision.
Simply Nonexistent
"Throughout the course of this trial we very clearly took the position that this is a question of law, that this is a case that turns on a question of law," Marino said. "The question of law is, did Mr. Aleynikov, acting with the intent to appropriate secret scientific material from Goldman Sachs, make a tangible reproduction of it? The proofs of that were simply nonexistent."
Aleynikov faced as many as four years in prison on each of the three counts he was charged with, although Manhattan District Attorney Cyrus Vance Jr. had offered him a plea deal carrying no jail time that he rejected. Prosecutors said in court Friday that they aren't seeking to incarcerate him, and Conviser ordered his $35,000 bail returned, saying he didn't consider him a flight risk.
Airport Arrest
The case became public in 2009 with Aleynikov's arrest by federal agents at Newark Liberty International Airport as he returned from a trip to Chicago, where he'd taken a job with Teza Technologies LLC after leaving Goldman. Teza, founded by former Citadel LLC high-frequency trading chief Mikhail Misha Malyshev, suspended him after his arrest and later fired him.
Aleynikov was convicted by a New York federal jury in 2010 on charges of theft of trade secrets and economic espionage. He was sentenced to eight years in federal prison. He appealed, and in February 2012 won a stunning rebuke of U.S. prosecutors.
Mere hours after the U.S. Court of Appeals in New York heard his case, the three-judge panel tossed out the conviction.
He was released after having served almost a year in federal prison.
The jury verdict Friday had former federal prosecutors crowing. The outcome is vindication for the overturned U.S. case, said David O'Neil, who led the Justice Department's criminal division last year before joining Debevoise & Plimpton LLP in January.
Dead Serious
The verdict "is one more indication that prosecutors at all levels are dead serious about stopping theft of trade secrets wherever they can, and the public is right behind them," said O'Neil, who isn't involved in the case.
But matters may not turn out to be that straightforward. Judge Conviser said he would take as long as six weeks to ponder Marino's motions to dismiss the case, filed before the verdict.
And it was also clear from juror comments after the verdict that they struggled with the issue of whether what Aleynikov did was actually a criminal matter.
One of them, Caitlin Blanchfield, 26, of Manhattan, said jurors could understand the defense argument that this ought to have been resolved as a civil case between Aleynikov and the bank, but they had to focus on the charges and the law.
"It's unfortunate it's a civil case that went to a criminal court," said Blanchfield, but "in our interpretation of the law, his actions were a violation. We had to focus on the facts."
Intent
Teppei Masuda, 30, of Manhattan, who does business development there, said the case was interesting because "no one was really hurt." The big factor, he said, was Aleynikov's intent.
"It's hard to define criminality when no one is emotionally or physically hurt," Masuda said. In the end, "it didn't matter if Goldman Sachs was injured," since Aleynikov planned to profit from the code.
Even intellectual and property theft experts said the case may not have sent any kind of clear message.
Extremely Muddled
"The whole situation has been extremely muddled from day one, so this kind of a muddled verdict is consistent with what's been going on from the very beginning," said Peter J. Toren, a former federal prosecutor with the Justice Department's Computer Crime & Intellectual Property section who prosecuted one of the first-ever under the Economic Espionage Act. "I'm kind of surprised initially that New York state charged him with this after he already spent a year in prison.".
"I would have thought they would have let this ride," Toren said. "But I guess not."
Vance said Friday his office will continue to pursue similar cases to "ensure the integrity and fairness of our marketplaces."
"By allowing individuals, corporations, and government entities to safeguard valuable information, we are encouraging and supporting the research, innovation, and entrepreneurship that is so important to our city," Vance said.
Never Boring
Whatever the outcome of any appeal, one thing about the Aleynikov case is certain: It's never been boring.
Superstar business writer Michael Lewis used it as the inspiration for his best-seller, "Flash Boys." And Aleynikov and his lawyers have fought doggedly every step of the way.
After the Federal Bureau of Investigation, acting on a complaint from New York-based Goldman, busted him, they also seized his laptop and later searched his home. Motions by his lawyers got evidence from those seizures tossed out.
And after Aleynikov's federal conviction was overturned -- freeing him from prison in Fort Dix, New Jersey -- he filed a malicious prosecution case against the agents who arrested him, accusing them of violating his constitutional right against unreasonable search and seizure.
Goldman Sachs used its "enormous influence" over the FBI and showed it's "willing and able to use the American criminal justice system as its own private enforcement arm," according to the complaint filed in Newark federal court.
Goldman denied those charges, and the case is still pending. A bank spokesman, Michael DuVally, declined to comment on Friday's verdict.
Avocado Affair
And then, in the middle of deliberations, came the avocado affair which briefly threw the case into an uproar. The accusing juror told the judge that she thought either the prosecution or defense was conspiring with a male juror to poison her.
Conviser later said "there is no basis in reality for her to believe he is poisoning her," noting that she had complained of not feeling well and being prone to incoherent thoughts.
This caused the male juror to wonder if he should lawyer up, according to a closed-door transcript read by Marino.
But the man's boss called the judge, according to the transcript, to say he wouldn't pay for an attorney.
Overturned
If Aleynikov's state conviction is overturned, it could further bog down government efforts to prosecute these kinds of complicated crimes. Some, though, think the jury verdict shows government prosecutors have been on the right track, even if the earlier federal conviction was reversed.
"With all due respect to Michael Lewis and his book, the actual facts of this case are so clear," said Julian Moore, a former federal prosecutor in New York and now a senior managing director at K2 Intelligence, a Manhattan-based risk analytics firm. The reality is that "two different juries composed of New Yorkers had no problem finding that he stole trade secrets."
Before it's here, it's on the Bloomberg Terminal.
LEARN MORE