The Data-Crunching Trainer to the NFL's Stars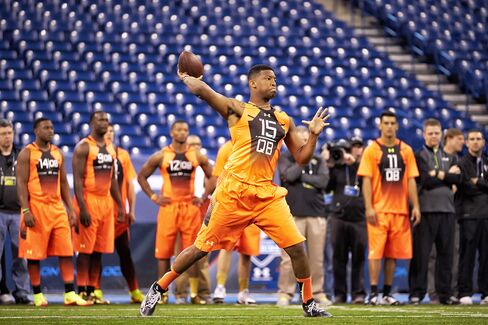 Quarterbacks Jameis Winston and Marcus Mariota shared a common bond in preparation for the National Football League draft: a physical trainer who uses quantitative data analysis to boost performance.
Ryan Flaherty once wanted to play professional football himself, but multiple knee injuries ended that dream and set the former Utah State receiver on a different path.
Flaherty, 32, now runs Prolific Athletes in San Diego, merging his passion for fitness and love of math -- "I see athletes in numbers," he says -- to create a training system that's attracted some of the biggest names in the NFL. In addition to Winston, Mariota and Bryce Petty, who could be the first three quarterbacks taken in this year's draft, Flaherty has worked with current NFL players such as Russell Wilson, Aaron Rodgers, Cam Newton and Johnny Manziel.
"First it was players telling other players, then a lot of big agents got word and now all of their guys are coming here," Flaherty said by phone. "But both Jameis and Marcus were coming to me before they signed with an agent. It's really been word of mouth. To have the first and second pick go and train at the same place is really rare, especially quarterbacks. It says a lot about their competitive nature."
Flaherty helped Winston drop almost 25 pounds ahead of the NFL's draft combine, where college players are scrutinized -- both physically and mentally -- by all 32 NFL teams. He helped the already speedy Mariota drop another three-tenths of a second on his 40-yard dash time to 4.5 seconds. The 15 prospects he worked with ahead of this year's draft shaved an average of six-tenths of a second off their 40 times, a difference that can boost draft stock and translate to millions of extra dollars in a player's first NFL contract.
'Players Talk'
"Players talk, just like co-workers at any other line of work," CBSSports.com draft analyst Rob Rang said in a telephone interview. "If players are finding consistent success, it's going to result in many other players adopting that trainer or technique. Word of mouth remains the most critical part of all this as long as the results back it up."
Flaherty has years of data to back it up. He's been obsessed with speed since he played Little League baseball, and says he was one of those kids who would get thrown out at first base after hitting a line drive single to center field.
Flaherty started by studying Olympic sprinters, about 1,000 of them, and then turned to researching college athletes. He found speed could be determined by the ratio of force exerted and an athlete's body weight. He created an algorithm of data points from more than 6,200 athletes that grades every player with a "force number" and shows what benchmarks need to be met with lower body strength to improve speed.
Manziel Wager
A $2,000 bet Flaherty won with Manziel, the second quarterback taken in the 2014 NFL draft, may explain it best. After testing Manziel's lower body strength, exercise mass and weight during their first day working together, Flaherty said he told Manziel his 40-yard dash time would be 5.09.
"He thought I was crazy," Flaherty said with a chuckle. "He said, 'There's no way.' He ran it and it was 5.09 on the dot."
Andrew Brandt, a former Green Bay Packers executive who's now a business analyst for ESPN, said pre- and post-combine training has become a "prerequisite for agents to offer," at their expense. The cost to work with Flaherty in San Diego can run about $20,000, a fee that covers not just the training, but a blood test to test for vitamin deficiency, housing for seven to eight weeks, a private chef and a rental car.
Flaherty's staff is now made up of former Olympians or NFL veterans whom he trained.
Hawaii Trips
Flaherty was in Maui with Wilson and 38 of his Seahawks teammates a week ago, arranging private workouts ahead of the team's offseason camp. Flaherty is back in Hawaii this week, joining Mariota's friends and family to watch the NFL draft.
Flaherty's methods have grabbed the notice of Nike Inc. He's among the 18 Ph.D's or trainers on the company's performance counsel, overseeing Nike's trainer network and product innovation. He appeared in a commercial with Mariota, now a Nike endorser, promoting preparation for the NFL.
Flaherty says the extensive data collection he's done over the past decade is what makes his system unique and valuable, showing specifically how to increase speed incrementally by building lower body strength. It yields quantitative numbers that the athletes he works with want to see.
"For so long, you've gone through something, you've trained some way and the results that you were told you were going to get didn't happen," he said. "This has a direct correlation to a result so athletes are so excited because finally for the first time they can believe in something, put all their effort in and know at the end -- I'm getting exactly what I'm being told."
Before it's here, it's on the Bloomberg Terminal.
LEARN MORE