Virgin America Mulls Picking Up New Jets During Delivery Drought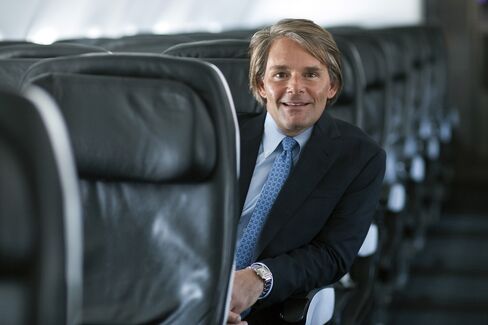 Virgin America Inc., facing a three-year stretch with no scheduled aircraft deliveries, may pick up new planes to fuel its planned growth during the lag.
"We're just kind of sniffing around the market to see what's available and when," Chief Executive Officer David Cush said in an interview Thursday. "We're not in active negotiations now. We're taking a look at the market."
Virgin America will receive 10 Airbus Group NV A320 jets over 12 months starting in July, and doesn't have another delivery scheduled until 2020. The carrier, partially owned by U.K. billionaire Richard Branson, plans to increase flight and seating capacity an average of 10 percent a year beyond 2015, mostly through additional planes.
That growth rate would require six to seven airplanes a year "over the next several years," Cush said. Aircraft could be obtained from lessors, or Virgin America could find them itself and finance the purchase with debt, Chief Financial Officer Peter Hunt said on a conference call.
The airline isn't much interested in used planes, a strategy employed by Southwest Airlines Co. and Delta Air Lines Inc.
"If you look at Delta and other carriers, they are built for managing complexity, and it shows up in their cost structure among other things," Cush said on the call. "We really aren't. That's why we're focused on taking new aircraft, because we don't have to worry about that complexity."
In 2012, Burlingame, California-based Virgin America reduced deliveries from Airbus to 10 from 30 set for this year and next, and delayed taking 30 upgraded A320neo model jets until 2020 through 2022 to focus on long-term survival over expansion. The airline began service in 2007 and held an initial public offering in November.
Cush commented on possible jet purchases after the airline reported a first-quarter adjusted profit of $10.5 million, or 24 cents a share. The results topped an average of 14 cents from analyst estimates compiled by Bloomberg.
Before it's here, it's on the Bloomberg Terminal.
LEARN MORE