U.S. Franchise Owners Say They Can't Make a Decent Living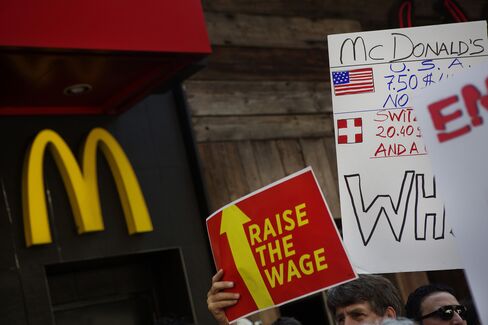 More than half of U.S. franchisees can't earn a decent living from their business, according to a survey.
About 52 percent of U.S. franchisees don't think they make a fair profit, according to a survey of 1,122 franchisees across industries including fast food, lodging and real estate. The poll, released Thursday by FranchiseGrade.com, was paid for by Change to Win, a federation of unions that includes the Service Employees International Union and the International Brotherhood of Teamsters.
Franchisees sometimes face conflicts with their parent companies over rent, royalties and other fees they're required to pay. Restaurant chains in particular are struggling with pressure to raise wages and provide better benefits for employees.
McDonald's Corp. said earlier this month that it would increase hourly wages and offer paid vacation at U.S. company-owned stores, putting pressure on franchisees to follow suit. McDonald's, which is 90 percent franchised in the U.S., is trying to turn around six straight quarters of slumping domestic sales and placate some upset operators.
"We would love to be in a position where we could pay workers more," Keith Miller, a Subway restaurant owner in California, said during a conference call to discuss the survey results. While fast-food franchisees have been under "extreme pressure" to maintain profit, parent companies have been able to keep money coming in, he said.
The survey also found that 91 percent of franchisees were in debt, and about two-thirds of them operated at a loss or zero profit.
Subway, Burger King, Wendy's Co. also are mostly franchised in the U.S.
Before it's here, it's on the Bloomberg Terminal.
LEARN MORE