U.K. Election Exit Pollster Says His Poll May Be Vague or Wrong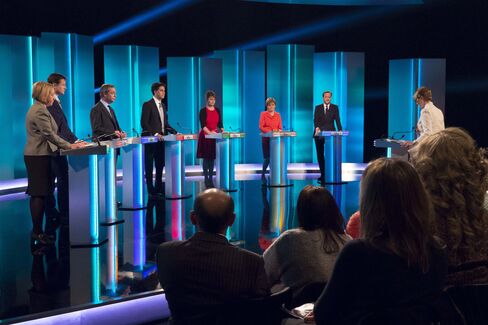 The first indication of who's won Britain's general election will be an exit poll commissioned by news broadcasters. According to one of the academics putting it together, it's likely to be imprecise and may well be wrong.
The findings of the country's only exit poll will be released by the BBC, ITV and Sky News at 10 p.m. on the night of May 7, just as polls close across the U.K.
After successfully calling the election results of 2005 and 2010, the team who generate the poll face a much tougher challenge this time, as traditional voting patterns fracture amid the rise of insurgent groups such as the Scottish Nationalists and the U.K. Independence Party. The pollsters are preparing to hedge their bets.
"Don't be surprised if the headline is very circumspect, which basically means: 'Who knows?'" John Curtice, the professor of politics at Strathclyde University who will be analyzing the numbers for the BBC, said in an interview. "Unless the polls are wrong, this is the closest election in 40 years."
The exit poll, which predicts seat numbers in Parliament rather than vote share, is conducted by interviewing voters at each of 140 carefully selected polling stations -- a total of 20,000 people across Britain -- and measuring the change in voting behavior since the last election.
Never Before
One difficulty the statisticians face is that much of the expected change in voting patterns in this election is happening in places where they haven't conducted surveys before. Previously, data from a handful of swing seats -- marginals as they're known in Britain -- could be extrapolated to produce a nationwide picture.
"Once upon a time, you could concentrate on Conservative-Labour marginals, throw in a few Lib Dem seats and basically get it right," Curtice said. "Until now you could ignore Scotland. You can't ignore it any more."
Whereas previous exit polls have only offered predictions for the Conservatives, Labour and the Liberal Democrats, this year's will also attempt to say how many seats the Scottish National Party and UKIP will pick up.
Polling stations in Scotland and UKIP target seats -- such as in eastern England -- have been added to the sample to assist in this. Ten more constituencies are being covered than in 2010.
But with UKIP especially, the team is effectively being asked to predict the result of specific local races, something its sample isn't large enough for.
"Prepare for disappointment," said Curtice. "It's almost guaranteed."
Before it's here, it's on the Bloomberg Terminal.
LEARN MORE