Soldiers Turn Brickies as U.K. Homebuilders Seek Workers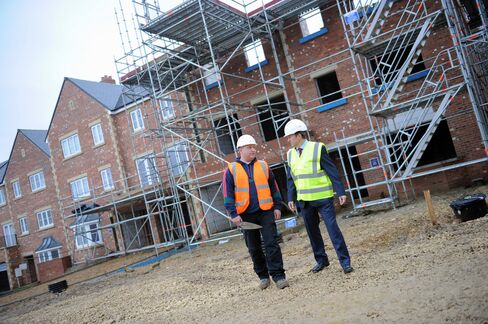 After 21 years in the British Army that included tours of duty in Afghanistan and Iraq, Ross Wilson was offered a buyout. Britain's shortage of construction workers allowed him to trade desert sand for muddy building sites in the north of England.
Wilson, 38, is working as an apprentice bricklayer for homebuilder Persimmon Plc, which will train more than 300 former soldiers this year because of the country's shortage of skilled workers.
The government formed after next month's national election will have to urgently address the lack of new homes, according to the Royal Institution of Chartered Surveyors. Persimmon's Combat to Construction program is the latest effort by the industry to increase output as the shortage sends asking prices to record highs.
"We were hoping that people coming out of the military would be able to bring transferable skills and be motivated and disciplined," said Richard Latham, human resources director at Persimmon. "They're able to take instruction, receptive to training and they are reliable."
Getting a full-time job is hard when you leave the army, according to Wilson, who works about 5 miles (8 kilometers) from the city of Middlesbrough. That's because "a lot of companies are looking for experience in certain jobs and certain qualifications," he said in an interview last month. "Persimmon are willing to train people up and they're not looking for experience."
'Attractive' Salaries
Mark Clare, chief executive officer of Barratt Developments Plc, is optimistic that rising earnings will attract workers to the industry. Barratt is the U.K.'s third-largest homebuilder by market value after Taylor Wimpey Plc and Persimmon.
"With wage rates going up 15 percent to 20 percent over the last few years for certain trades, not surprisingly it's become more attractive," he said in a February interview. "We've seen a lot of new talent coming in."
Taylor Wimpey is hiring at least 100 apprentices and 20 management trainees this year, the company said on April 3. Berkeley Group Holdings Plc, the largest homebuilder in London, plans to take on 250 apprentices in the year through June.
Prime Minister David Cameron's Conservatives have pledged to create more than 3 million apprenticeships, including in construction, if they're re-elected after the May 7 election.
'Unachievable' Target
For its part, the Labour Party has promised to boost construction to 200,000 homes a year after the election. However, only 9 percent of homebuilders believe that's achievable because of the shortage of skilled workers, limited funding for construction and the lengthy mortgage approval process for buyers, broker Knight Frank LLP said on April 27. The Conservatives haven't set themselves a construction target.
Increasing the number of skilled workers is the second-best way of increasing the number of homes being constructed in the U.K., the survey showed. Adding planners in borough councils to speed up the number of planning approvals was the only policy that ranked higher, the broker said.
The construction industry is paying the price for a lack of investment in apprentices during the recession, Latham said. Fully qualified bricklayers can earn 500 pounds ($766) a week, he said.
Wilson, the former soldier, says he likes having a settled job, the security of a three-year contract and the outdoor work -- and he no longer has to take part in dawn parades.
"The banter between the lads is pretty much the same," Wilson said. "The difference is that it's a lot more relaxed than the army."
Before it's here, it's on the Bloomberg Terminal.
LEARN MORE