In Rush to Help Nepal, India's Modi Ends Up Annoying Its Leaders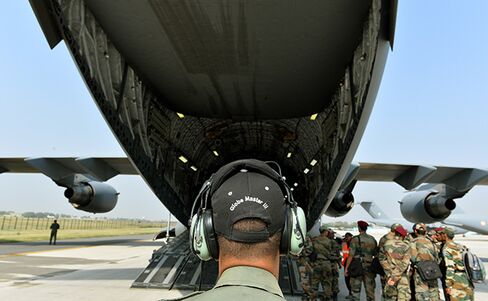 It took just about four hours after an earthquake ripped across Nepal on Saturday for India to get a C-130J Super Hercules cargo airplane and its roaring propellers headed toward the disaster zone, with relief workers aboard.
Almost 100 disaster personnel soon came in a C-17 Globemaster III. An Ilyushin IL-76 went next, with additional people and five sniffer dogs to find survivors.
More followed in what amounted to an airborne armada from Indian Prime Minister Narendra Modi. For the people of Nepal, the second-poorest nation in Asia now living in a landscape pocked with flattened homes and ruptured roads, it was a godsend. Thousands were dead and millions homeless.
But less than a week later, the efficiency of Modi's response -- part of a wider effort to improve ties with the region since he took office -- is having an unintended consequence: It's made clear just how underequipped and dysfunctional Nepal's own government has been in the aftermath of the earthquake.
Nepal brought up media coverage of India's response in a meeting with high-ranking officials, triggering a diplomatic flare-up that's gone all the way to Modi's office, said a senior Indian official in Kathmandu who asked not to be identified because the subject is politically sensitive. India has had to spend time doing damage control that has distracted from relief efforts, the official said.
'Leader Like Modi'
Touring an Indian relief work site where a six-story building collapsed and killed 30 people, Nepal Home Minister Bam Dev Gautam said on Wednesday that the government wasn't equipped to handle a large search-and-rescue mission on its own.
"While we are grateful to our neighbor for their swift response, we need the entire world's help at this time," he told a group of reporters, many of whom had traveled from Delhi to ask about India's role in the relief efforts.
After watching Gautam, a 64-year-old man named Vijay Shrestha turned to a reporter and spoke up.
"What kind of government do we have here? I have not seen a drop of water or food in four days," the shopkeeper said. "Maybe if we had a leader like Modi who took charge and was decisive in his actions, things would not be this bad."
A front-page headline on The Himalayan Times on Thursday encapsulated the impatience: "Govt slow in distributing relief." The day before, another front page story said "relief has been pouring in from all corners of the world but the government has no clue about how to get it distributed among the needy, nor is it willing to hold anyone accountable for is failure."
Survivors Found
Rameshwar Dangal, the official coordinating rescue and relief efforts for Nepal's home ministry, acknowledged in an interview on Wednesday that "there's some discontent" over the response. "It's not widespread," he added.
Rescuers found two survivors on Wednesday and are still hoping to find more, Dangal said. The country's resources are being used to rescue wounded people in rural areas, he said, leading to shortfalls elsewhere such as a lack of tarps for people to use as tents in the continuing rains.
Discontent among residents in the aftermath of large-scale natural disaster is common, such as New Orleans in the wake of Hurricane Katrina in 2005 or Haiti after the devastation of its 2010 earthquake. But the problem in Nepal is compounded by national politics that were already fragile before parts of the country were torn apart on Saturday.
'Kick Them Out'
A decade-long Maoist insurgency ended in 2006. The monarchy, which had ruled for more than 200 years, was abolished in 2008. An assembly elected in 2008 to draft a new constitution failed to do so in four years. A new body was voted in during 2013 and hasn't done any better.
Faced with damages that the country's finance minister says will exceed $10 billion, about half the size of the nation's economy, Nepal's 28 million citizens look increasingly vulnerable. For representatives of nations providing humanitarian aid -- including top trading partner India -- growing frustration among the public can be diplomatically delicate to the point of being uncomfortable.
"We, of course, all want to leave Nepal in charge," Wendy Sherman, U.S. under secretary for political affairs, told reporters in New Delhi on Wednesday. "It is their country -- how they want to proceed. But I know that they could not proceed forward in this overwhelming disaster. When you have a disaster like this, you're in trauma."
In Kathmandu on Thursday, the patience of citizens like Milan Magar was wearing thin. He said he hadn't received any water or food aid since the earthquake five days ago.
"All this talk of a new constitution and a new government is an embarrassment -- this government is failing its people," said Magar, a 33-year-old taxi driver in Kathmandu. "What we should do is beat them up and kick them out."
Before it's here, it's on the Bloomberg Terminal.
LEARN MORE