IBM, Apple Working With Japan Post on Apps for Elderly Care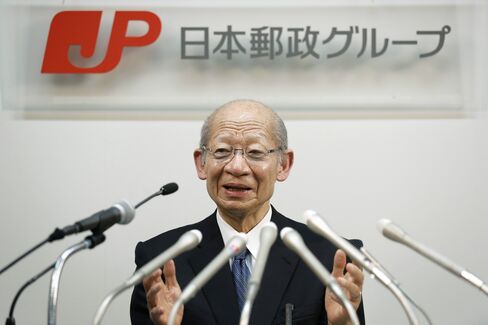 Japan Post Holdings Co., the state-owned financial and postal giant, is enlisting IBM's data-analytics technology and Apple Inc.'s devices for a program to improve care of elderly people in the aging nation.
Taizo Nishimuro, Japan Post's chief executive officer, made the announcement at International Business Machines Corp.'s Watson headquarters, seated alongside IBM CEO Ginni Rometty and Apple CEO Tim Cook.
Japan Post has a service in which its employees visit the elderly to check up on them on behalf of family members. The tie-up would allow it to use Apple's devices to collect information on the senior citizens that would then be analyzed by IBM's Watson analytics technology.
IBM and Apple set aside a rivalry last July that's about as old as the personal-computer era to develop applications for businesses. For IBM, the aim is to boost sales for mobile software and services, while demand for older offerings is tumbling. Apple is trying to stanch falling shipments for the iPad.
IBM's shares dropped 1.5 percent to $171.87 at 10:59 a.m. in New York. Apple declined 1.9 percent to $126.18.
Japan Post is also using Thursday's announcement as a springboard for visits with investors in New York, San Francisco and Washington, leading up to initial public offerings of the company's three businesses.
Japan's government is privatizing its biggest consumer bank by listing the holding company, banking and insurance units as three separate entities, planned for later this year.
Before it's here, it's on the Bloomberg Terminal.
LEARN MORE