German Labor Market Extends Recovery Amid Robust Growth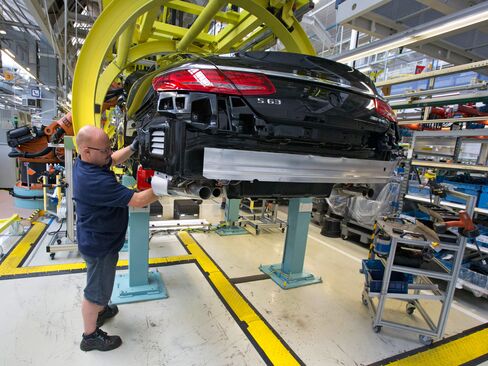 German unemployment declined for a seventh month in April as companies became more confident that the recovery in Europe's largest economy is here to stay.
Joblessness fell a seasonally adjusted 8,000 to 2.79 million, the Federal Labor Agency in Nuremberg said on Thursday. Economists had predicted a drop of 15,000. The unemployment rate remained at 6.4 percent, the lowest level since reunification.
The Bundesbank has predicted "quite robust" economic growth for Germany this year, and the country's government expressed optimism when it raised its outlook on April 22, citing rising wages and record-low unemployment. Even so, declines in investor sentiment and a gauge of manufacturing and services activity are serving as a reminder that the nation isn't immune to risks.
"The decline in joblessness is set to continue, and employment is developing very pleasantly," said Jens Kramer, an economist at NordLB in Hanover. "While survey indicators tend to be a bit oversensitive, hard facts tell us that the economy is in good shape."
The number of people without work dropped by 2,000 in western Germany and 6,000 in the eastern part of the country, according to the report.
The jobless rate in the 19-nation euro area probably fell to 11.2 percent in March from 11.3 percent the previous month, according to a separate Bloomberg survey. The European Union's statistics office will publish the data at 11 a.m. Luxembourg time.
Before it's here, it's on the Bloomberg Terminal.
LEARN MORE