Gerber Tries to Cure Picky Eating With Chunkier Food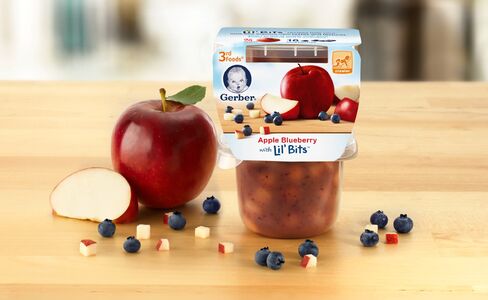 Gerber Products Co., the 87-year-old baby food maker, spent $100 million developing a new product line to help prevent crawling-age kids from becoming picky eaters.
Gerber's new 3rd Food Lil' Bits, made with an updated cooking process developed over the last five years, are being pitched as a "bridge" food for babies moving from traditional purees to table food. The product, which comes in 10 flavors, includes small pieces of soft fruits and vegetables designed to help babies learn how to chew -- as well as develop more sophisticated palates.
"It offers a gradual textual bridge-to-table food," said Sarah Smith-Simpson, a senior scientist at Nestle SA, Gerber's parent company. "We think if we start a bit earlier, maybe we can help fend off some of that picky eating and foster some acceptance of new flavors and textures."
Sales of traditional baby food have come under pressure in recent years because of changing attitudes and a declining birthrate. More parents are making baby food at home, or opting for premium options, such as organic products that come in squeezable pouches. Gerber, the leading U.S. baby food brand, has posted flat sales the past three years, according to IRI, a market research firm in Chicago.
During that same period, sales of organic baby food have soared, as shoppers who are otherwise unwilling to pay higher prices for organic items make that choice for their babies, said Emily Balsamo, an analyst at Euromonitor International. Organic items now account for more than 20 percent of the baby food market, the highest percentage in any food category, she said.
"People who never bought organic for themselves have a baby and start buying organic," she said.
Taste Tests
While Gerber does sell some products that are organic, the new Lil' Bits are not. But they're formulated to be appealing to babies, the company said.
Gerber held 80 taste tests, with each session including as many as 100 babies, as it worked on the Lil' Bits recipes. During the tests, Gerber representatives watched to see if the babies were pushing away the food or turning their heads.
Gerber research shows that exposing children to lumpy food in their first 10 months helps them transition to table food, the company said. The new product is aimed at children who have started crawling and learning to move their tongues side to side, according to Smith-Simpson. Kids at that stage are typically around 8 months old. A national television commercial touting Lil' Bits, which began airing this week, shows babies going to "Chew University."
Gerber is pitching Lil' Bits to millennial moms, and the company thinks it will appeal to parents who have been firing up their blenders to make baby food.
"It would be quite difficult for mom to actually slice up an apple and cook the little bits to just the right texture and add them to baby food," Smith-Simpson said.
Before it's here, it's on the Bloomberg Terminal.
LEARN MORE