Central Banks 'Safe' No Longer as Yellen & Co. Keep Options Open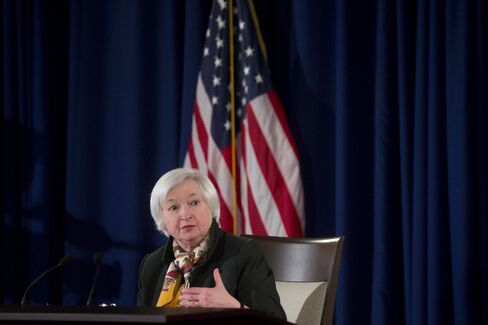 The Federal Reserve is a "safe" bet no more and neither are many of its global counterparts.
After years of telegraphing their intentions, Chair Janet Yellen and colleagues on Wednesday put interest-rate increases "on the table and the focus will be squarely on the data," said Roberto Perli, a partner at Cornerstone Macro LLC in Washington.
"This was technically the last 'safe' Federal Open Market Committee meeting," Perli said.
In other words, the Fed is now harder to forecast and forward guidance is over. It can raise rates at whichever meeting it wants although September is the one anticipated by Perli and most other economists.
If investors are seeking predictability from central banks elsewhere, however, they will be disappointed. It was not only Fed policy makers who met this week and the message from many others was that there's no message. Financial markets need to be on the alert for monetary action and timing is a guessing game.
Take the Bank of Japan. While it held back from boosting stimulus on Thursday, it pushed back its forecast for reaching a 2 percent inflation target. That fanned speculation it will need to bolster its asset-purchase program at some point this year.
The People's Bank of China is also a livewire as its economy slides. Having already cut interest rates twice in 2015 and reduced the amount of reserves banks must hold, this week brought news it is now considering expanding a new lending tool to bolster demand for local-government bonds.
Wrong-Footed Economists
As for New Zealand, where rates stayed unchanged, Governor Graeme Wheeler said on Thursday it would cut the benchmark more deeply if demand and prices weaken. With annual inflation already at a 15-year low of 0.1 percent in the first quarter, traders see about a 70 percent chance of a cut by the year-end, according to swaps data compiled by Bloomberg.
Meantime, the Bank of Israel left its rate unchanged on Monday, yet by citing concern about the potential for added shekel strength left some economists wondering if additional stimulus will be needed.
In a sign of things to come some central banks are already surprising markets and still leaving their options open to act again.
Sweden's Riksbank unexpectedly kept its main interest rate unchanged at minus 0.25 percent on Wednesday, yet said it will buy even more government bonds and announced a "readiness to do more" to meet its inflation goal.
Thailand wrong-footed economists by reducing its key rate for a second straight meeting. Even more cuts may be in the offing as it worries about inflation and exports.
Unsafety in Numbers
As for Russia, it also pared its key rate more than economists projected on Thursday by lowering it 150 basis points to 12.5 percent to aid an economy skidding toward recession. "As inflation risks abate further, the Bank of Russia will be ready to continue cutting the key rate," it said in a statement.
There was some clarity from Brazil. Its central bank raised its key rate by a half-point to 13.25 percent as expected and indicated it will raise rates again in June.
For the most part though, when it comes to central banking, there is now unsafety in numbers.
Before it's here, it's on the Bloomberg Terminal.
LEARN MORE