Best San Francisco Since 2000 Pulls Oakland Into New Twin Cities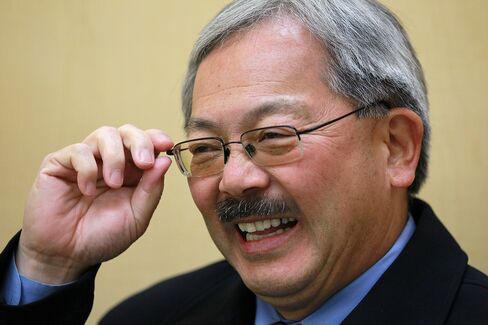 San Francisco Mayor Ed Lee is presiding over the city's strongest economy since 2000 as his counterpart across the bay, Oakland's Libby Schaaf, sees advantage rather than competition in her neighbor's expanding wealth.
The two leaders are capitalizing on the technology and health-care boom that's drawing a wave of high-earning workers and companies to the San Francisco Bay Area, reinvigorating once-blighted neighborhoods and raising tax revenue for the cities while also boosting living costs for residents.
"We're willing to be very good, sharing economies because we do recognize that more and more the economic competition is not really between our two cities," Lee, 62, said in an interview at his San Francisco City Hall office. "It really now is the ability to compete as a region."
The onetime rivals, which have a combined population of almost 1.3 million people and are separated by a 4-mile (6-kilometer) stretch of San Francisco Bay, are forging a relationship in which San Francisco gains lower-cost housing for its workers and Oakland benefits from the spillover of residents and companies seeking alternatives to San Francisco's soaring real-estate prices. The alliance is similar to other sister cities, including Minneapolis and St. Paul, Minnesota, with a combined population of almost 700,000 residents.
San Francisco's unemployment rate fell to 3.6 percent in March, its lowest level since 2000 and well below the 5.5 percent U.S. rate, according to state and federal data. Oakland's 5.9 percent rate is far below a peak of 17 percent in August 2009.
Seeing Zero
"Of course, I want to see zero," Lee said of his city's unemployment rate. "Can a city do such a thing? You'd have to take care of a lot of other issues," including helping seniors and returning veterans.
While Oakland's average rents rose 10 percent, the second-highest rate in the country, to $1,841 in the first quarter, they are still more affordable than in San Francisco, where the average rent is $2,831, according to Carrollton, Texas-based MPF Research. San Francisco had the highest U.S. median home values at $1.02 million in March, while Oakland was ninth at $518,900, according to Zillow.
"The opportunity to finally see Oakland get its due, to be recognized as such a fabulous place to come live and bring your business, to work, to play, is gratifying," Schaaf, 49, said in an interview at her City Hall office. "And, of course, we also need that investment. We need to see our revenues grow."
Largest Companies
Oakland is home to 427 tech companies with about 7,000 employees, she said. More than 300 restaurants, bars and cafes opened in the city last year, she said.
Fourteen of California's top 100 companies are in San Francisco, an increase from 10 firms five years ago, according to Bloomberg data. Newcomers include Twitter Inc., whose stock posted a year-to-date total return of 7.3 percent, First Republic Bank, with a 14 percent return, Splunk Inc., with a 15 percent return, Medivation Inc. with a 26 percent return, and LendingClub Corp., whose return plummeted 30 percent, according to Bloomberg data. San Francisco-based Dolby Laboratories Inc. dropped out of the top 100. Clorox Co. was the only Oakland-based company on the list, with a 4.2 percent return.
San Francisco-based Wells Fargo & Co., the largest bank in the world by market capitalization, pays the fourth-biggest tax bill of all Standard & Poor's 500 companies in the trailing 12 months, behind Apple Inc., Chevron Corp. and Exxon Mobil Corp., according to Bloomberg data.
Schaaf said creative companies, including the Gensler architecture firm and two advertising agencies, recently opened offices in Oakland. Rather than seeking to poach businesses from her neighbor across the Bay, Schaaf said, she's hopeful that San Francisco employers will take advantage of her city's lower cost structure to open second offices.
Don't Compete
"We don't necessarily have to compete with San Francisco," she said. "Their rents are twice -- twice -- what ours are."
In San Francisco, the tech boom was buoyed by a policy that Lee pushed through shortly after taking office in 2011: a payroll-tax break for companies that opened offices in the city's Mid-Market district, a five-block stretch that has long been known for blight and homelessness. That drew about 20 companies, including Twitter and Zendesk Inc., which now occupies two buildings there. Companies in the district have created 5,000 to 7,000 jobs, Lee said, and transformed the area at street level through their armies of young employees and the restaurants and other businesses catering to them.
"The payroll-tax exemption was to get rid of a barrier that was plaguing us," he said. "It signaled to the business community that we want to help businesses succeed in our city."
Both Lee and Schaaf identified health care as the fastest-growing industry in their cities.
Medical Tourism
"Medical tourism is beginning to come on the rise," Lee said. "The health-care centers that we have are so good that people from around the world want to come here and get both treatment and support."
Oakland, a city long known for its high crime rate, is becoming a hip, affordable alternative for residents drawn to its gritty atmosphere and vibrant art, music and food scene.
Crime is still an issue -- Oakland had the 20th-highest murder and manslaughter rate in the country, according to 2013 FBI data.
"In Oakland, our No. 1 economic-development strategy is safety, creating confidence that this city is safe and is getting safer," Schaaf said, adding that she would propose funding to hire more police officers in her forthcoming budget.
Digging Out
A labor standoff by workers at West Coast ports crippled the Port of Oakland, with freighters moored in the waters near the Golden Gate Bridge for weeks, before the dispute was resolved in February. The compromise negotiated across the Bay in San Francisco boosted import traffic at the Oakland port by 38 percent in March, the highest since at least six years ago, according to Bloomberg data.
"We are proud that we've been able to dig out faster than the other ports," Schaaf said. "But I'm very cautious because of the turmoil from that slowdown."
Schaaf, an Oakland native and a protégé of Governor Jerry Brown, served as his aide when he was the city's mayor. She left her job at a local law firm to start a volunteer program for Oakland public schools and later served a term on the City Council before ousting Mayor Jean Quan, with Brown's endorsement, in November.
"She's been a partner," Lee said of Schaaf. The two mayors talk every two weeks about issues such as housing, public safety, transportation and technology, he said.
Lee became San Francisco's first Asian-American mayor in 2011 by happenstance when he was serving as city administrator and then was selected by the city's Board of Supervisors to replace Gavin Newsom, who became the state's lieutenant governor.
2011 Election
Lee was elected in November 2011 to a four-year term with the backing of the technology industry and other business sectors. In 1974, Lee spent a year in Hong Kong on a fellowship to study the Communist Youth League in China. Before serving as city administrator, he was director of the city's purchasing department and Human Rights Commission.
Lee is seeking re-election this year. Like Newsom in 2007, he doesn't have an opponent who holds public office and is expected to win easily.
Before it's here, it's on the Bloomberg Terminal.
LEARN MORE