Italy Weighs Solution for EU100 Billion of Bad Loans, BOI Says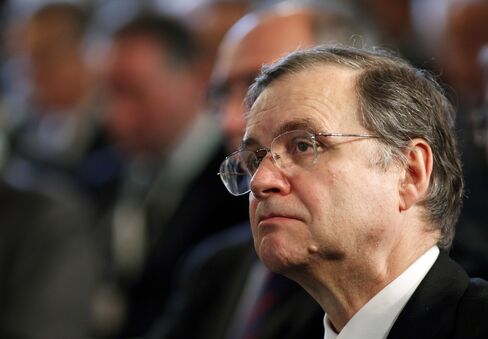 Italy is considering creating a company that could buy as much as 100 billion euros ($111.5 billion) of loans, or about half the total stock of lenders' non-performing debt, the Bank of Italy said.
Policymakers are studying measures "which would help to boost lending to households and firms and hence strengthen the economic recovery," the central bank said in its Financial Stability Report on Thursday. Among the possibilities, "is a program of purchases for a value of around 100 billion euros gross of loan-loss provisions."
Italy, the euro-region's third-biggest economy, is emerging from its longest recession on record, while the government is considering creating a bad bank to accelerate disposals of banks' problematic assets so they can boost lending. The government is discussing the plan with the European Commission in Brussels to come up with an arrangement that is compatible with rules on state aid.
Italian banks' gross non-performing loans as a proportion of total lending rose to 9.8 percent in February, the highest in almost 20 years, the nation's banking lobby ABI said April 15.
Record NPLs
"A public intervention is important with regard to non-performing loans, though obviously it has to be one compatible with European regulations," European Central Bank Governing Council member and Bank of Italy Governor Ignazio Visco told the Italian Senate on April 22.
ECB President Mario Draghi also said that the Frankfurt-based institute looks "favorably" at initiatives aimed at addressing bad loans in Italy.
Should the bad bank be seen as a form of state aid, banks would be asked submit restructuring plans and other stakeholders would be bailed in, for example, the Bank of Italy said in the report on Thursday. That "would make the intervention impracticable," it said.
The Rome-based central bank said that the asset management company should have different features from those that already exist in European countries. "It would buy bad debts at market value - its intervention would therefore not constitute state aid," the report said.
Before it's here, it's on the Bloomberg Terminal.
LEARN MORE