Mark Zuckerberg may have been cagey (in public) about what he thinks about the Apple Watch, but Sheryl Sandberg seems to like wearing one.
Facebook Inc.'s chief operating officer was photographed with what appears to be Apple's new smartwatch this week, adding to a list of Apple Watch sightings that includes Beyoncé, Katy Perry and Pharrell Williams.
You can thank Iowa Governor Terry Branstad for that. After visiting Facebook's offices, part of an economic development trip1, the governor posted a picture of himself standing between Sandberg and Facebook's chief executive officer:
https://www.facebook.com/TerryBranstad/photos/a.10150208348805314.439698.339058510313/10155733450600314/?type=1&theater
And there it was, Sandberg with what appears to be an Apple Watch.
It's hard to tell whether Zuckerberg was wearing one (he's reportedly right-handed and his left arm was behind the governor). Based on Zuckerberg's reluctant answers on what he thinks about the Apple Watch, he probably didn't have one on his wrist.
"I haven't actually spent that much time with this so far so, I mean, I mostly just want to congratulate Apple on shipping something that seems like a pretty amazing piece of technology and work, and we're proud to be supporting,'' Zuckerberg said on Facebook's April 22 earnings call. "It's a space that's going to be really interesting and we're going watch closely and build what our community wants us to."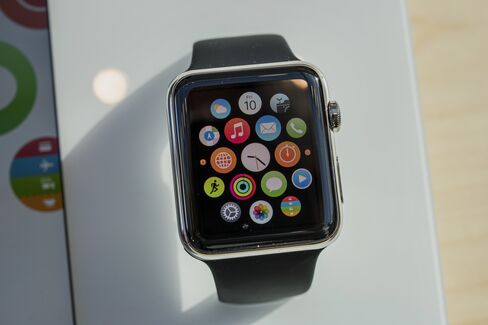 Facebook has yet to introduce an Apple Watch app (its Instagram photo-sharing service has rolled one out, however). More than 3,500 apps were available for the Watch when the device went on sale last week after a massive marketing campaign, which included sightings of celebrities wearing them before they were available to consumers. Apple is depending on third-party developers, such as Facebook, to create applications that will help make the Watch a must-have gadget.
Jimmy Centers, a spokesman for the governor, didn't say whether the Apple Watch came up in conversation. Apple and Facebook didn't respond to requests for comment.
For now, people will have to be content with the next Apple Watch technology executive sighting.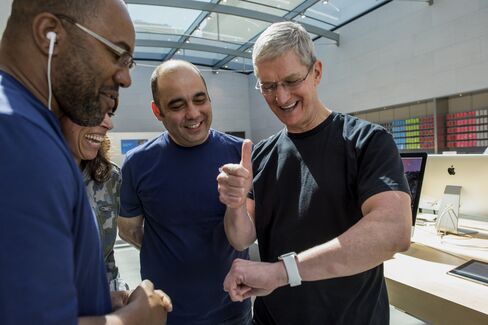 Before it's here, it's on the Bloomberg Terminal.
LEARN MORE