Amp Up Your Day Drinking With Calvados-Spiked Beer
Use excellent beer and dry cider to make a shandy, then add booze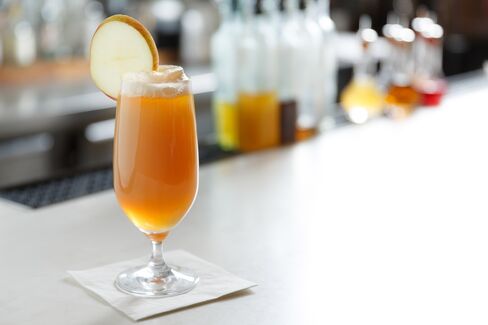 They served kids warm, barely fizzing shandies at pubs when I was growing up, before we were quite old enough to order a proper pint.
Those shandies weren't particularly good—a mix of lager and lemonade—but I was feeling nostalgic, so I ordered one the other night at Eli's Table, on Manhattan's Upper East Side. It was nearly 8 o'clock and there was still some light in the sky: shandy weather.
Turns out, Nathan Gurr makes a gorgeous version, boozing the thing up with a little float of calvados, or French apple brandy. This gives the drink some depth, but also a nice little nudge of alcohol. You could play with the beer and cider, of course, but Gurr really has it down , blending equal parts of Ommegang's wheaty, pleasingly sour Saison for the beer and Johanna Cecillon's dry Nerios cider from Sévignac, France.
The drink is sharp and fizzy, tweaked out with a bit of lemon juice and sugar syrup. It looks as grand and inviting as a pint, and it's a civilized thing to gulp down before dinner as the days warm. Or sip throughout a picnic. Or on a rooftop while the sun goes down. You get the point. Make a decent-sized batch of simple syrup and keep some lemons on hand, and you can make these any time. And if you run out of calvados, I found that American applejack makes a worthy substitute.
One note: Keep these shandies away from the kids.
Apple Shandy
Adapted from Nathan Gurr of Eli's Table, New York
Makes 1 drink
1/2 ounce simple syrup
1/2 ounce fresh lemon juice
6 ounces chilled saison beer
6 ounces chilled apple cider
1/2 ounce calvados
Apple slice (optional)
For simple syrup, simmer equal parts sugar and water until the sugar dissolves, then chill in the fridge.
Pour the lemon juice and simple syrup at the bottom of a 14-ounce glass. Add the equal parts beer and cider, then float the calvados on top and garnish with an optional apple slice.
Before it's here, it's on the Bloomberg Terminal.
LEARN MORE