Alexander Says Tories 'Reckless or Deceitful' Over Welfare Plans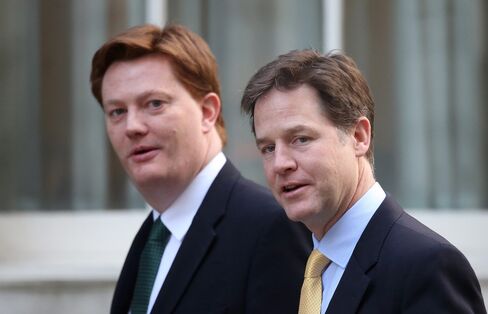 Chief Secretary to the Treasury Danny Alexander said Prime Minister David Cameron's Conservative Party is being "reckless" or "deceitful" over plans to cut 12 billion pounds ($19 billion) from the U.K.'s welfare budget.
Alexander said cuts to child benefits and child tax credits proposed in 2012, which he says he blocked, show the kind of savings the Conservatives are planning. Cameron's party has refused to say where the savings would be made if it wins the May 7 election.
"If they're proposing 12 billion pounds of welfare savings without knowing what they're doing, that's highly reckless," Alexander, whose Liberal Democrat party has governed in coalition with the Tories since 2010, told BBC Radio on Thursday. "Equally, if they do know what they want to do and they're not telling the British people that is deceitful."
Cameron has said he wants to find 12 billion in savings from the welfare budget by 2017-18 and has repeatedly refused to say where the cuts will be made. The Conservatives said the 2012 plans highlighted by Alexander and published in The Guardian newspaper would never be supported by Cameron and Chancellor of the Exchequer George Osborne.
"This set of policies was never proposed or supported by the prime minister and chancellor and would never be proposed or supported by the PM and chancellor," a party spokesman told the Press Association newswire.
Alexander said the plans, drawn up by Work and Pensions Secretary Iain Duncan Smith and considered in 2012, included a means test for child benefit, stopping it being paid to the parents of children over 16 and limiting the payments to families with more than two children. Child tax credits would also only have been available to families with two children as well, Alexander told the Guardian.
"They're obviously the sorts of things the Conservatives think about when they're considering welfare savings," Alexander said. "People should look at what the record is of that party in terms of ideas they've been willing to consider before."
Before it's here, it's on the Bloomberg Terminal.
LEARN MORE