Yellen May Get No Second Chance at Getting It Right on Fed Rate Hike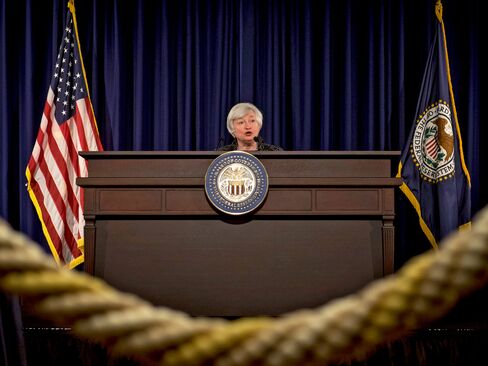 The best-case scenario for the U.S. Federal Reserve's first interest-rate increase since 2006 is that the economy and markets don't skip a beat.
It's the worst-case scenario that troubles Fed Chair Janet Yellen, according to Bank of America Corp. economist Michelle Meyer. In that outcome, central bankers increase rates from near zero only to realize that the world's biggest economy is too fragile to handle even a small tightening of credit.
"If all they were able to do was to go that one time, it would probably have been appropriate for them to wait longer," she said in a telephone interview Tuesday. "Yes, there's a desire to not be at zero," but a fraction of a percentage point higher won't make much of a difference.
Policy makers -- who will announce their latest decision at 2 p.m. in Washington -- have held their benchmark rate in a range of zero to 0.25 percentage point since December 2008, and keep pushing out their outlook for a tightening of credit.
The latest data probably won't encourage them to pull their timing forward: The U.S. economy barely grew in the first quarter as business investment and exports slumped, Commerce Department data showed.
Fed Waffling
Traders are now bracing for another tortured statement from the Fed that will attempt to adequately express optimism about U.S. growth, while also demonstrating an appropriate degree of skepticism about whether the outlook's strong enough to merit tighter credit.
The more Fed members waffle and examine all the disappointing economic data that's been trickling out, the more bond traders have been pushing back their expectations for higher rates.
Federal fund futures show traders don't expect the first increase until December, according to data compiled by Bloomberg. Before the Fed's March policy meeting, when officials lowered estimates for interest rates and economic growth, the expectation was for an increase in September.
A measure of anticipated volatility in Treasuries has been swinging more this year than for any comparable period since 2011, according to the Bank of America Merrill Lynch Option Volatility Estimate MOVE index. Bond buyers would feel less jumpy if they had a clearer sense of the Fed's plans.
Rate Outlook
That's hard when the Fed is second-guessing itself. Central bankers lowered their median estimate for the federal funds rate at the end of 2015 to 0.625 percent at the meeting last month, compared with 1.125 percent in December forecasts.
Their median prediction for the end of 2016 declined to 1.875 percent from 2.5 percent.
If the Fed just hikes a little bit and stays put for a while, that will cause "even more volatility and confusion," Meyer said. While they don't want to pre-commit to a set path, it's important that they have a direction and a goal for an end "normal" rate of key borrowing costs.
That seems up for grabs at this point.
Before it's here, it's on the Bloomberg Terminal.
LEARN MORE