Federal Reserve officials sounded optimistic in their statement Wednesday, but there was no sign that they intend to raise interest rates any time soon. That's because they're missing an important prerequisite: a sustained, solid turnaround in economic growth.
The rash of bad economic news throughout the first quarter was capped Wednesday by the Commerce Department report that U.S. gross domestic product barely grew, rising at a 0.2 percent annualized pace in the first three months of 2015.
The economy has decelerated and several indicators now need to show a convincing turn before Fed officials can be confident that labor markets will continue to improve and inflation will rise back toward the central bank's 2 percent goal, said Eric Green, head of economic research at TD Securities in New York.
The dearth of demand has been especially evident in business investment. Bookings for non-military capital goods excluding aircraft, a proxy for future corporate spending on new equipment, have fallen for seven consecutive months.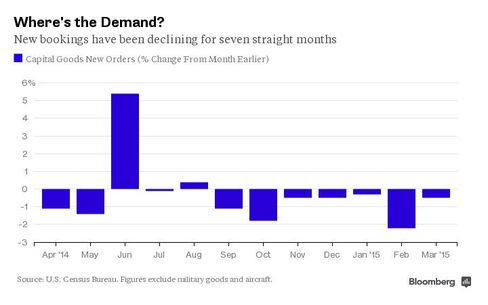 "Now they have to see affirmation that they are positively right that we are going to get a rebound," Green said. "You need to see durable goods moving higher, you need to see new orders moving higher and you need to see more evidence that the bump in real incomes that we have been seeing translates into aggregate demand."
Fed officials said they continue to "expect that, with appropriate policy accommodation, economic activity will expand at a moderate pace." They also acknowledged that growth slowed "during the winter months, in part reflecting transitory factors." That's another way of saying they are trying to look through the bad first quarter.
Still, investors' expectations of a rate increase at the next meeting in June are practically zero, and Green says even a September rate hike (his forecast now) could be questionable if the economy doesn't show more momentum. It takes time for solid, convincing turns in the economy to unfold, and Fed officials probably don't want to risk a policy error of raising to soon.
"They have to be damn sure that it is the right move, and the only way they can be damn sure it is the right move is if they get a lurch higher in all the growth numbers with the expectation that it will persist,'' Green said.
Before it's here, it's on the Bloomberg Terminal.
LEARN MORE