What's a Reasonable Way to Kill Someone?
As prisons run out of drugs for execution by lethal injection, the Supreme Court considers a case that could reshape the death penalty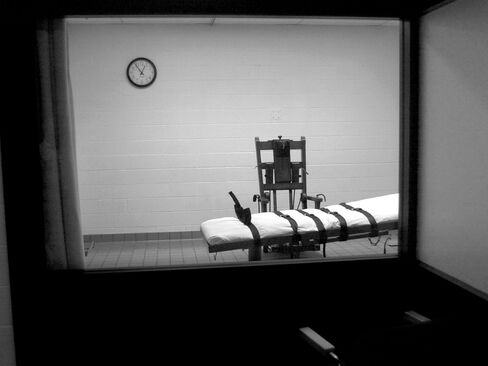 The U.S. Supreme Court heard arguments today in the latest high court case about capital punishment, addressing some of the most contentious questions over lethal injection—and possibly reshaping the death penalty.
The case, Glossip v. Gross, is named for Richard Glossip, a convicted murderer, and three prisoners who filed a lawsuit in June 2014 in Oklahoma district court. The suit alleges that the use of a drug in their impending executions violates the Eighth Amendment's ban on cruel and unusual punishment. Their argument centers on the botched execution in April 2014 of Clayton Lockett, convicted of raping and murdering a 19-year-old woman in 2000.
Oklahoma, like many other states, has used a three-drug concoction to carry out executions. When the suit was filed, the state had executed 110 death row prisoners this way since 1976.
Under the three-drug protocol, the prisoner receives an injection of sodium thiopental, a barbiturate used to induce a deep, coma-like sleep. Then come the kill shots: an injection of pancuronium bromide, designed to paralyze the prisoner's diaphragm to halt breathing, and potassium chloride, intended to cause cardiac arrest by blocking electrical signals to the heart. The two lethal drugs would be excruciatingly painful to a conscious person.
In early 2011, sodium thiopental, the drug in the sedative shot, became unavailable when its only U.S. manufacturer stopped producing it. Oklahoma found an alternative—pentobarbital, a barbiturate that acted similarly—but the Denmark-based company that provided it to U.S. states cut off the supply, citing "distressing misuse of our product in capital punishment."
So Oklahoma started using midazolam, an anti-anxiety drug—and a depressant, rather than a barbiturate. Lockett, who was 38, was the first person the state attempted to execute with midazolam as part of the three-drug protocol.
First, the executioners failed to properly access a vein in his right arm, so the midazolam didn't properly enter his bloodstream. The execution team said he was unconscious, so they went forward, administering the lethal shots. Lockett woke up.
"Something is wrong," he said, according to witnesses. The "drugs aren't working."
Lockett "writhed, groaned and convulsed as the three-drug cocktail was being administered, and he ultimately died of a heart attack 43 minutes later," USA Today reported.
Despite the depraved crime Lockett committed, the prolonged agony he and others appear to have suffered in their executions is starting to change the terms of the national debate over the death penalty. The Supreme Court set a precedent in 1890 that "punishments are cruel when they involve torture or a lingering death."
Now lethal injection is in the spotlight—and with it, capital punishment. "As humane options become less and less available, people are going to continue to second-guess [the death penalty], and states are going to continue to question whether it's something they want to keep doing," says Steven Schwinn, an associate professor at John Marshall Law School who specializes in constitutional law.
In Glossip v. Gross, the Supreme Court won't ban capital punishment. But it may go beyond simply saying whether midazolam is constitutional, says Eric M. Freedman, a law professor at Hofstra University who lectures and writes about death penalty issues.
"The justices take roughly 80 cases per year, and they hate to waste those cases by issuing opinions that do not give some general guidance to the world," he says. "It's possible that simply saying 'midazolam is no good' might not be good enough and that instead, they will offer that a good alternative to midazolam should have these specific characteristics."
Acknowledging Lockett's prolonged death, Oklahoma changed its lethal injection procedures, requiring that death row prisoners be notified in writing as to which drugs the state intends to use to execute them. The director of Oklahoma's Department of Corrections notified four prisoners—Glossip, Charles Warner, John Grant, and Benjamin Cole—that midazolam would be used in their executions. That's when they filed the June 2014 lawsuit in Oklahoma district court, alleging that the use of midazolam is cruel and unusual punishment. On Dec. 22, the court denied their motion for a preliminary injunction, which would have halted the executions.
They appealed the next day to the Tenth Circuit Court of Appeals, which agreed with the district court. On Jan. 14, the prisoners appealed to the Supreme Court, which agreed to hear their case, but not soon enough for Warner. He was executed the next day in a procedure that required him to be injected five times before the midazolam took effect.
Eight days later—and one day before Glossip, 52, was scheduled to die—the Supreme Court decided to hear the case. Glossip's execution was stayed. He remains on death row at Oklahoma State Penitentiary in McAlester following two murder convictions.
The high court has heard 11 death penalty cases in the last decade, but Glossip is the first to address lethal injection since Baze v. Rees in 2008. That case addressed Kentucky's three-drug lethal injection protocol, which used sodium thiopental as its first, sedative drug. The court upheld the constitutionality of Kentucky's protocol, 7-2, but stated that the first drug in a three-drug serum must render the prisoner unconscious.
Today, the court considered whether a state can "carry out an execution using a three-drug protocol where (a) there is a well-established scientific consensus that the first drug has no pain relieving properties and cannot reliably produce deep, coma-like unconsciousness, and (b) it is undisputed that there is a substantial, constitutionally unacceptable risk of pain and suffering from the administration of the second and third drugs when a prisoner is conscious." The justices are expected to render a decision this summer, sometime before they adjourn in July.
Deborah Denno, a Fordham University law professor who has written frequently on the constitutionality questions surrounding lethal injection, agrees with Hofstra's Freedman that the court may seek to sketch out an alternative to midazolam. But she says that may not do much good.
"Let's say the Supreme Court says, 'OK, you can use lethal injection, but you can't use midazolam anymore.' Even that will affect other states because they're all running out of drugs," she says. "The alternatives are running out."
Compounding pharmacies have stepped in to produce generic drugs that can be used for lethal injections now that pharmaceutical companies have exited the market, but two of the main organizations that represent them have recently come forward asking members not to provide lethal injection drugs to states.
Oklahoma officials are aware of this. Governor Mary Fallin,a Republican, recently signed a law approving nitrogen gas as an acceptable method of execution. Utah has revived firing squads. Tennessee has brought back the electric chair.
"People say, 'Why is it so complicated to kill someone?' Well, in fact, it is complicated—it's a punishment done in a prison," Denno says. "You're not putting down a dog, or putting somebody to sleep in a hospital bed with a trained anesthesiologist there. So it's good that we have the Supreme Court looking at this case. I will be very curious to see where its decision takes us."
Before it's here, it's on the Bloomberg Terminal.
LEARN MORE