U.S. Yields Are Rising and the Dollar Falling. What Gives?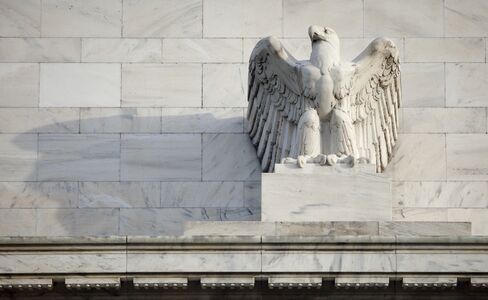 Global investors' penchant to take on risk is on the rise, that's the key to the weakening U.S. dollar, according to Steven Englander, global head of Group of 10 currency strategy at Citigroup Inc.
"Risk appetite is improving as Greek risk diminishes; inflation expectations bounce back; and the fear trade is being unwound," Englander wrote in a note published Wednesday. "U.S. data and Fed expectations are not helping, but this would not explain why U.S. yields have been going up the last two days, while the U.S. dollar is going down. U.S. yields are being dragged up by global yields, just as they were dragged down."
A spiral in European bond prices, as investors from DoubleLine Capital's Jeffrey Gundlach to Janus Capital's Bill Gross said betting against the debt was a winning trade, helped to sent U.S. government debt yields higher on Wednesday.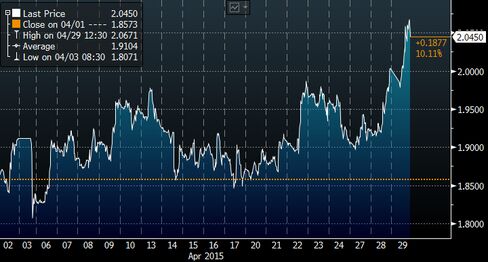 Ten-year Treasury yields rose to as high as 2.08 percent, the most since March 16. Yields on German 10-year debt rose for a third day, adding 12 basis points to 0.28 percent, the highest since March 17.
The dollar pared losses as Federal Reserve policy makers said they see inflation rising toward their 2 percent target as they consider the first interest-rate increase since 2006. The slowdown of U.S. growth in the winter months was as a result of ''transitory factors,'' the Federal Open Market Committee said in a statement Wednesday in Washington.
Dollar Decline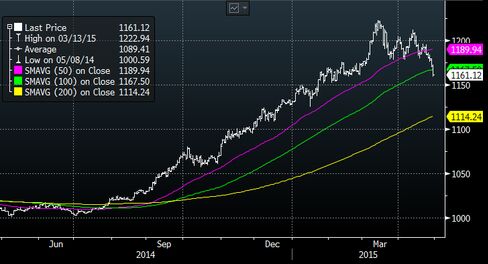 Even as America's rates, which would historically bolster the value of a nation's currency rose, the dollar tumbled and extended its longest streak of losses since August 2013.
The Bloomberg Dollar Spot Index, which tracks the U.S. currency against 10 major peers, declined 0.5 percent to 1,165.64 as of 2:32 p.m. in New York. It fell for a six day, the longest streak since August 2013 and reached the weakest level since Feb. 5 on a closing basis.
Treasury yields are rising even as growth last quarter in the U.S. trailed expectations.
Gross domestic product grew at a 0.2 percent annual pace in the first quarter, down from 2.2 percent for the period through December, Commerce Department data showed Wednesday in Washington. The median estimate of analysts surveyed by Bloomberg before the release called for 1 percent.
"Greek risk premium is being unwound," Englander wrote before the release of the Fed statement. "Inflation expectations are higher globally. Investors think the Fed will not shift to hawkish as a result, but that other countries will shift away from dovish."
Before it's here, it's on the Bloomberg Terminal.
LEARN MORE