If you were surprised by the no-show performance posted by the U.S. economy in the first quarter, you aren't alone. Economists surveyed by Bloomberg saw gross domestic product expanding at a 1 percent pace in the first three months of the year, much more optimistic than the 0.2 percent rate published by the Commerce Department on Wednesday.
Not everyone was taken off guard. The Federal Reserve Bank of Atlanta's GDPNow forecasting model basically nailed the reading. The model, as of April 24, tracked growth at a 0.1 percent rate, making it one of the most accurate projections for GDP when grouped with the Bloomberg survey.
So how does it work? The Atlanta Fed's GDPNow tracker aggregates "statistical model forecasts" of 13 components that make up growth. It's refreshed five or six times a month on weekdays, with at least one update following these six data releases:
Manufacturing ISM Report on Business
U.S. International Trade in Goods and Services
Monthly Retail Trade Report
New Residential Construction
Advance Report on Durable Goods Manufacturers
Personal Income and Outlays
You can see how its GDP forecast changed over the course of the last few months as more information came in, with its final forecast coming after the durable goods report on April 24: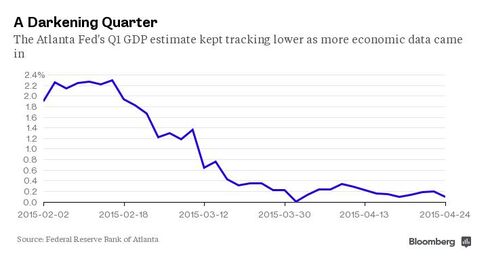 It's important to keep in mind, however, that the GDPNow forecasting model is just that — a forecast. Since versions of this model were used to track GDP in 2011, the average absolute error of the forecast made just before the release of the first GDP estimate is 0.68 percentage point.
Accuracy metrics "do not give compelling evidence that the model is more accurate than professional forecasters," the Atlanta Fed says on its website. "The model does appear to fare well compared to other conventional statistical models."
While the Atlanta Fed isn't currently sharing its code for the model, the forecasts are publicly available on its website, which also offers an Excel spreadsheet with more detail.
Before it's here, it's on the Bloomberg Terminal.
LEARN MORE