Strong Franc Brings Bonanza to Swiss Shoppers Seeking Bargains
A 15% rise in the franc makes shopping across the border even more enticing.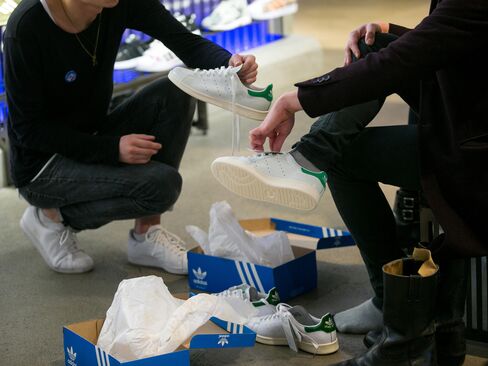 Fourteen weeks after the Swiss National Bank abolished its cap on the franc, shoppers are cashing in.
"I collect rare comics and often order them online as they are hard to find in stores," Raphael Gut, a 40-year-old web designer, said as he left a post office in central Zurich. "When the euro plunged, I was able to bid more in the auction for a piece I wanted for a long time."
Gut and his fellow consumers are reaping the benefits of a 15 percent jump in the Swiss currency against the euro this year that has added to the appeal of shopping in neighboring Austria, Germany, France and Italy, where prices are significantly lower. That's undermining domestic demand, one of the main pillars of Swiss output in recent years.
Retail sales declined the most in more than a decade in February, and the pace of economic growth this year is set to be half of what it was in 2014. Data on Wednesday showed that while in March the UBS Consumption Indicator recovered further from a two-year low, "a continued decline in retailer sentiment has cast a shadow on the outlook for private consumption." The KOF Leading Indicator on Thursday is expected to stay near the weakest level since 2011.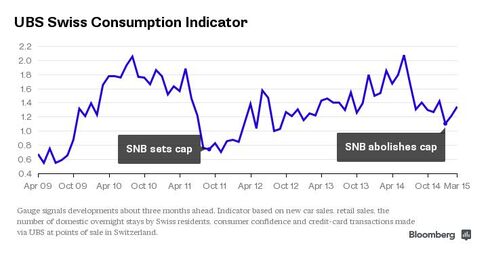 The central bank's Jan. 15 decision to give up its ceiling on the franc of 1.20 per euro means Swiss consumer prices are falling, as the stronger currency keeps down the cost of imports but makes exports less competitive. The SNB foresees prices falling 1.1 percent in 2015, with the annual inflation rate not turning positive again until 2017.
"Switzerland is a small, open economy and the shock of the franc's appreciation won't fully be offset," said David Marmet, an economist at Zuercher Kantonalbank in Zurich. Still, "domestic demand will benefit from cheaper imports," he said.
Anecdotal evidence indicates the Swiss have taken advantage of their new spending power and are scooping up wares across the border.
"After the euro dropped I went for two big shopping sprees'' in the German town of Konstanz, said Sabrina Rohr, 22, who works in retail in Switzerland. "I've never done that before."
Customs office data in Loerrach, on the German border to Switzerland, shows that the number of export forms, which allow shoppers to reclaim value-added tax on goods they're bringing back into Switzerland, increased 27 percent in the first quarter from a year earlier.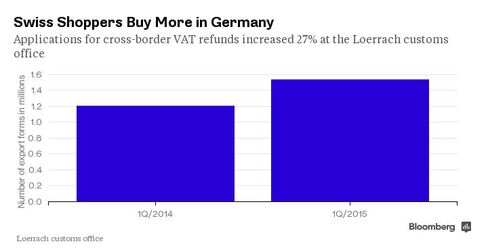 Online shopping appears to be getting a boost too. The Swiss post office has seen the number of packages from abroad rise 10 percent this year, according to Oliver Flueeler, a spokesman for Die Schweizerische Post AG. To meet demand, the company may increase capacity, he said.
To discourage patrons from shopping elsewhere, local businesses in Switzerland are adjusting pricing. Signs announcing exchange-rate discounts hang prominently in several storefronts in central Zurich.
"Purchasing power is gaining" because of the strong currency, said Roland Klaeger, an economist at Raiffeisen Schweiz in Zurich. "It won't be that consumption can totally offset the export weakness," he said. "But immigration and low interest rates are also a demand support."
As for insurance company employee Vera Moser, 24, the better exchange rate means she's traveling more, including an impromptu visit to friends in Berlin.
"When it comes to bigger sums like holidays one can actually benefit from the strong franc," she said. "I think I wouldn't have booked a flight so spontaneously if it were more expensive."
Even so, not everyone is participating in the shopping bonanza. With companies, particularly in the manufacturing sector, seeing their profit margin eroded due to the stronger currency and extending employee's working hours to compensate, some in Switzerland are specifically trying to support domestic producers.
"I hardly ever buy stuff online," said Judith Egloff, a 56-year-old biologist. "Given the current market conditions for local stores, it's even more important to buy directly from them."
Before it's here, it's on the Bloomberg Terminal.
LEARN MORE