Sinopec Tops Rivals on Costs With Surprise First-Quarter Profit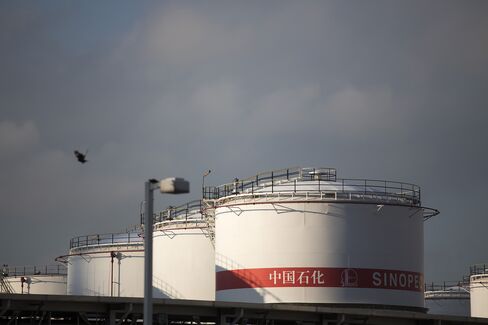 China Petroleum & Chemical Corp., Asia's biggest refiner, topped rivals with a surprise first-quarter profit as cost controls offset the plunge in crude prices. Its shares rose.
Net income at the Beijing-based company known as Sinopec fell to 2.17 billion yuan ($350 million) compared with 14.1 billion yuan a year earlier, according to a statement Wednesday. Analysts had broadly expected another loss after the company posted a loss in the fourth quarter.
Brent, a benchmark for half of the world's crude trading, has dropped 42 percent in the past ten months, forcing explorers worldwide to cut output. Sinopec reduced operating costs by 23 percent to 473.1 billion yuan, while oil and gas output fell 1 percent to 117.8 million barrels of oil equivalent in the quarter.
Sinopec's bigger state-owned peer PetroChina Co. reported an 82 percent first-quarter profit decline on Monday. Cnooc Ltd., the country's largest offshore oil and gas explorer, posted a 40 percent plunge in first-quarter sales last week.
"Sinopec did a nice job in cost control and I expect the cost advantage to help them if crude begins to rebound later this year," said Wu Fei, a Hong Kong-based analyst at Bocom International. "It's safe to say Sinopec's earnings bottomed out in the first quarter and margins in the following quarters will see steady improvement."
Sinopec shares gained 1.4 percent to HK$7.38 in Hong Kong as of 9:32 a.m. The stock has climbed 17 percent this year, compared with a 20 percent advance in the city's benchmark Hang Seng Index, which was slightly lower today.
Crude Stocks
Sales fell 26 percent to 469.3 billion yuan. The company's marketing and chemicals businesses made operating profits in the period, while exploration and production posted a 1.23 billion yuan operating loss, and refining a 3.36 billion yuan loss due to inventory costs from higher-priced crude stocks left over from last year.
The company's average realized oil price declined 52 percent to $46.22 a barrel in the quarter, while natural gas prices rose 14 percent to $7.94 per thousand cubic feet.
Sinopec's earnings followed the resignation of former Vice Chairman Wang Tianpu on Monday after China's top anti-graft agency began investigating him as part of its widening crackdown on corruption. Chairman Fu Chengyu said Wang's departure won't affect the company's operations.
Before it's here, it's on the Bloomberg Terminal.
LEARN MORE