Sarao Remains in Jail After Failing to Pay Bail at Hearing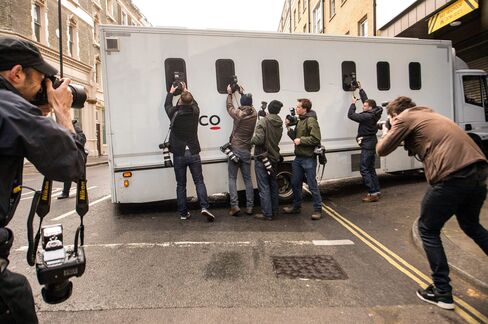 Navinder Singh Sarao, the British trader facing U.S. charges for his alleged role in the 2010 flash crash, returned to Wandsworth prison after he failed to pay the 5 million pounds ($7.7 million) required for his bail.
Sarao, 36, has been in custody since April 21, when he was arrested at the house he shares with his parents near Heathrow airport. The terms he must meet to be released on bail were extended by one week at a hearing at Westminster Magistrates' Court in London Wednesday.
Sarao, who appeared in court wearing a long-sleeved gray t-shirt, is facing 22 charges in the U.S. after being accused by prosecutors of contributing to the frenzy of the May 2010 flash crash, when investors saw nearly $1 trillion of value erased from U.S. stocks in just minutes. He's alleged to have made almost $900,000 on the day of the crash and $40 million from 2010 to 2014. He is fighting extradition.
The date of his extradition hearing was pushed back from August until Sept. 24 at the request of a lawyer for the U.S. at the hearing. No reason was given for the delayed bail payment. A lawyer for Sarao said last week he has about 5 million pounds in trading accounts and another 100,000 pounds in various betting accounts. Sarao holds a number of offshore accounts, according to documents released by U.S. authorities.
Bail Conditions
When his security is paid he will be allowed to go home, but will have to adhere to conditions including not accessing the Internet, checking in at a local police station three times a week, and staying at home every night, according to the trader's bail order.
Wandsworth prison is the largest prison in the U.K. with more than 1,800 inmates, according to the Ministry of Justice website. Defendants from Westminster are automatically remanded in custody at Wandsworth, which has the second-highest security rating among U.K. detention facilities.
Before it's here, it's on the Bloomberg Terminal.
LEARN MORE