Sainsbury Defends CEO After Two-Year Egypt Prison Sentence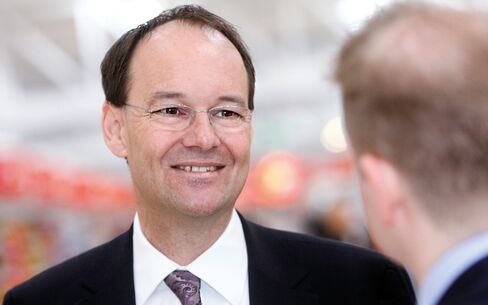 J Sainsbury Plc said it "strongly refutes" allegations against its chief executive officer surrounding a long-running commercial dispute in Egypt that led to him being sentenced to two years in prison in his absence.
The British supermarket company published a statement on Wednesday defending Mike Coupe after details of the case were reported by The Times newspaper in London. Coupe was convicted by an Egyptian court in September, Sainsbury said.
The case against the CEO was brought by Amr El Nasharty, who bought out Sainsbury's stake in an Egyptian joint venture in 2001, three years before Coupe joined the U.K. supermarket chain. The company said El Nasharty paid with checks that were "dishonored," and he in turn has claimed that Coupe visited Egypt on July 15, 2014 and seized those checks.
According to the company, Coupe was in London working as normal on the day in question and has never met the complainant. His position running the grocer is unaffected.
"We have taken all necessary steps to appeal against these groundless claims and will continue to do so," it added.
Ill-Fated Venture
According to The Times, Sainsbury has received a number of requests for compensation from El Nasharty, who says that when Sainsbury sold him back the shares, he discovered that the business was insolvent and had substantial tax liabilities. The newspaper said Coupe traveled to Egypt last weekend to attend court to appeal his conviction.
Sainsbury made an ill-fated venture into Egypt in 1999, when it bought an 80 percent share of local retailer Egyptian Distribution Group. It withdrew from the country two years later, selling the business to minority partner El Nasharty for an initial amount of $20 million.
Sainsbury said it did not expect the case to have "any material operational or financial impact on the company." The shares rose 0.9 percent to 268.4 pence at 10:48 a.m. in London.
Before it's here, it's on the Bloomberg Terminal.
LEARN MORE