Russian Debt-Sale Success Shows Investors Bracing for Rate Cuts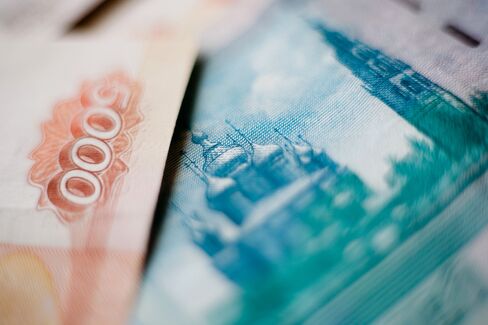 Russia sold all the bonds offered at a debt auction for a fourth straight week, signaling investors are seeking to lock in higher yields as they brace for further reductions in central bank borrowing costs.
The Finance Ministry received bids amounting to three times the 20 billion rubles ($389 million) of floating-coupon notes tendered on Wednesday. That's the most Russia has raised from the sale of floaters since reintroducing the instrument in January to try to drum up demand for local debt. Government bonds gained for the first time in four days, while the ruble strengthened, extending the biggest monthly rally since 1993.
The coupon paid on Russian floaters is based on interbank market rates for the previous six months, which should amount to around 15 percent by July, according to Dmitry Dudkin, head of fixed income research at UralSib Capital. The Bank of Russia, which raised its key rate by 650 basis points in December to 17 percent, has since brought borrowing costs down to 14 percent -- with another point cut projected on Thursday.
"This is the most attractive floater," Dudkin said, referring to today's sale of debt due in December 2017. "We expect a 10 percent key rate at the end of 2015."
Policy makers are poised to keep loosening monetary policy after a ceasefire in Ukraine and revival in oil prices this year spurred the biggest currency rally globally, according to data compiled by Bloomberg. The ruble, the worst performer in emerging markets in 2014 with a 46 percent slump, gained 0.3 percent to 51.3770 per dollar by 5:26 p.m. in Moscow.
Best Performer
Its up 18 percent in 2015, including a 13 percent rally in April alone. At 14 percent, Russia's key rate is still the third-highest in Europe, the Middle East and Africa, a fact that's given carry traders the ability to take home 24 percent returns this year, the most in the world. The yield on five-year government bonds fell 10 basis points to 11.39 percent on Wednesday, bringing this year's drop to 392 basis points.
"Usually when a central bank lowers rate, the currency suffers," Sebastien Barbe, Paris-based head of emerging-markets research and strategy at Credit Agricole CIB, said by e-mail. "It's a bit different when they begin with very high rates and the scope for a cut can be very large, and also when there is potential for foreign investors to return because the backdrop has changed."
While this year's ruble rally is easing inflationary pressures, it also threatens exporters' competitiveness since the country relies on oil and gas industries for about 50 percent of revenue.
Barbe expects the Bank of Russia will cut rates by 150 basis points on Thursday, 50 basis points more than the median estimate in a Bloomberg survey. Policy makers will announce the decision Thursday at about 1:30 p.m. in Moscow.
The Micex Index of stocks fell 0.4 percent to 1,670.46, while the dollar-denominated RTS Index declined 0.4 percent.
Before it's here, it's on the Bloomberg Terminal.
LEARN MORE